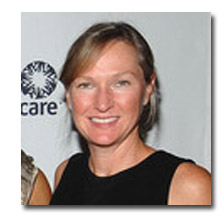 In what it says is an effort to accelerate the transformation of the Reader's Digest Community across platforms, the Reader's Digest Association Wednesday appointed Allrecipes.com president Lisa Sharples as president of the division, which encompasses all assets of the Reader's Digest brand.
Sharples replaces Eva Dillon, who has served as president of the Reader's Digest Community since March 2007. RDA says Dillon [pictured] plans to leave the company before the end of the year and relocate to South Carolina. Dillon will remain with RDA on an interim basis, overseeing the division's publishing activities until a successor for that function is named. She will report to Sharples.
According to RDA, Sharples is a "digital pure-play executive" who was named Allrecipes.com president in May 2007 after serving as senior vice president of marketing at Classmates.com. She will continue retain her position as president of Allrecipes.com. Sharples' appointment is effective immediately.
UPDATE: An RDA spokesperson says Alyce Alston, president of the recently-created Emerging Businesses division, is leaving the company after the end of this week to "pursue other opportunities." Dillon and Alston were among CEO Mary Berner's top hires after she joined RDA in 2007. Both worked with Berner previously at Condé Nast.