Euromoney Institutional Investor Acquires Real Estate Investment Site

REITcafe.com to merge editorially with Real Estate Finance & Investment.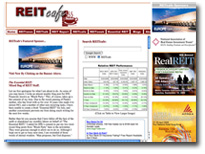 London-based Euromoney Institutional Investor—publisher of several trade publications primarily in the international finance sector—has acquired REITcafe.com, a provider of news, data and podcasts for Real Estate Investment Trust investors.
Financial terms of the deal were not disclosed.
Founded in 2005 by Anatole Pevnev, REITcafe.com is the primary Web site for global REIT information and analysis, with 6,000 registered users and an archive featuring more than 200 podcasts. The site also provides access to more than 60 quarterly earnings calls, an industry-specific news feed and a weekly newsletter.
According to Nick Ferris—publisher of Euromoney's Institutional Investor and the Real Estate Finance & Investment subscription newsletter—the acquisition is consistent with Euromoney's strategy and "will enhance Real Estate Finance & Investment's existing coverage of REITs and provide a platform to continue to build both products under the same expert editorial team."
Ferris told FOLIO: Euromoney Institutional Investor will increase REIT's workforce as par of its investment. "It's a profitable business and we expect to grow it substantially over the next few years," he said.
Euromoney Institutional Investor publishes more than 100 magazines, newsletters and journals, including the leading financial market titles Euromoney and Institutional Investor.
Meet the Author
---