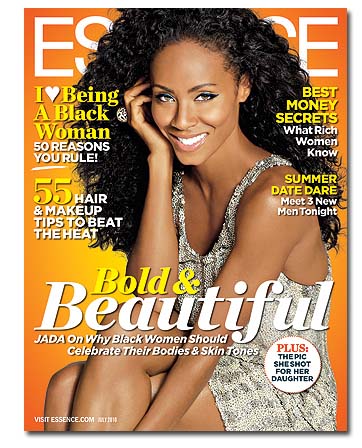 Just like their b-to-b counterparts, consumer magazine publishers have desperately been trying to scratch a profit from any amount of advertising dollars they can get their hands on, especially since the economic recession last year. One group that was hit particularly hard in the marketing pullback was African-American magazines.
According to PIB, Black Enterprise, Ebony, Essence and Jet were down a collective 18 percent in ad pages through the first quarter—about double the industry average. Ad pages slipped 8.2 percent at Black Enterprise while Johnson Publishing's Ebony and Jet saw dramatic declines of 30.6 percent and 33.1 percent respectively (Johnson points out, however, that Ebony and Jet both published one fewer issue during the quarter compared to last year).
Time Inc.'s Essence, meanwhile, reported the smallest decline: -0.3 percent. Since then the magazine been taking advantage of the ad rebound, and says ad pages have been on the rise since its March issue. The magazine estimates that ad pages were up 31 percent for May, 14 percent for July and 21 percent so far for August. On the digital side, online ad revenues are up 32 percent during the first half of 2010 versus the same period in 2010.
"Beauty, retail, food and pharmaceutical are resilient categories for Essence," Michelle Ebanks, president of Essence Communications, tells FOLIO:. "In addition, Ford has emerged as a powerful partner, having supported our signature red carpet programs such as 'Black Women in Music' and 'Black Women in Hollywood.'"
And according to the most recent info from GfK MRI, Essence grew its overall audience by 12.1 percent this Spring compared to Spring 2009 (Ebony's audience dipped 1.7 percent, Black Enterprise's declined by 4 percent and Jet's fell by 10.2 percent). Essence says it has managed to capitalize on that growth, with average paid subscriptions for all reported issues in 2010 (January to April) in ABC rapid reporting up 3.5 percent versus the same time period last year.
"We're reaching new consumers online and with our live events such as the Essence Music Festival," Ebanks says. "We have been successful at converting these audiences to subscribers."
Celebrating its 40th anniversary this year, Ebanks says Essence will continue to reach out and grow its audience, in print as well as over online, mobile and social platforms. "We've made multi-media efforts a major focus and we consistently develop compelling programs that are integrated across platforms," she says.