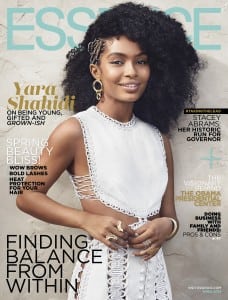 Editor-in-chief Vanessa De Luca is out at Essence after five years. The brand is also letting go of its editorial projects director, Patrik Henry Bass, after 18 years with the company.
A statement released by Essence Communications president Michelle Ebanks said the two are leaving the company amid an editorial restructuring following its sale in January from Time, Inc. to a group of investors led by Shea Moisture founder Richelieu Dennis.
After a decade with the brand, DeLuca was named editor-in-chief in 2013. During Bass's nearly two decades with the company, he stood out as the magazine's books editor and an organizer of the Essence Festival.
Ebanks said in the statement that in order to maintain the brand's authentic vision and evaluate areas of needed transformation, "we are realigning our editorial team structure to include more content integration and audience development across all platforms, including digital, social, video, live experiences and the magazine."
In a note to the staff, Ebanks further stated that the magazine "will not be replacing these roles moving forward and will share more with you in the coming weeks regarding our realigned editorial structure."
In the interim, Yolanda Sangweni, digital content director, and Jacklyn Monk, executive editor, will oversee content and operations across all platforms for the brand—including digital, social, video, live experiences and the magazine