Esquire's (Lack Of) Passion

Magazine not what it used to be.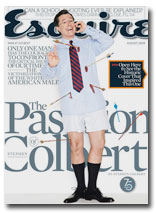 In this, the 75th anniversary year, Esquire remains intent on proving they aren't as good as they used to be. Frankly, I wouldn't hold it against them if they didn't insist on rubbing it in our faces. For part one of this series look here. George Lois must be rolling in his spacious, well-appointed Manhattan apartment….
[EDITOR'S NOTE: Buy Jandos' book!]
Meet the Author
---