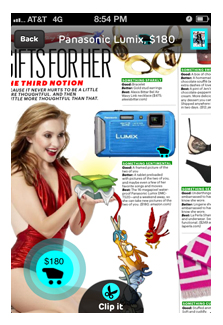 Editor's Note: This story originally appears on FOLIO: sister site, minonline.com

Esquire's December issue will help launch a new mobile app tool that can augment, clip or share every page of the magazine. Blending techniques of augmented reality and image recognition, the new Netpage app for iOS can be aimed at any page of the issue, which appears on newsstands Nov. 20, to activate an action. Every article, image or ad in the magazine can be clipped to the cloud for reference on devices or desktops later. Or it can be shared immediately via email, text, Facebook or Twitter.
Some pages of the December issue will also pop into the app multimedia enhancements of the page, which also can be shared. Every page of the magazine allows for some sort of digital interaction via the app, which does not require any mobile 2D code or watermark to work.
There will be m-commerce activations on some items as well. Enhancing its issue theme of "American made" by activating the Great American Things Collection of curated items. Readers can use the app to buy any of these American-made gifts directly from the Made Collection, which partnered with Esquire and Netpage on the project.
Lexus will be the first advertiser to use the interactive magazine technology to enhance an ad. The two-page spread in this issue advertises the 2013 LS F Sport snaps into an animated form on the app and then delivers the TV spot for the car's campaign.
Esquire says that going forward every issue will be enabled for Netpage interactivity, and other unspecified magazines in the Hearst line will be adopting the technology in 2013. The magazine has a long history of experimenting with merging technologies in its pages. It has featured augmented reality in previous issues, innovative fold-out covers and signature video covers of its digital editions for tablets.
Stay updated on the latest FOLIO: news, follow us on Facebook & Twitter!