Esquire Takes Stock of Time

Photo director responds to Obama cover criticism.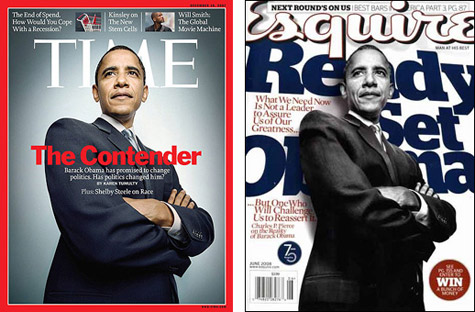 Time, December 10, 2007; Esquire, June 2008
As it's been noted on this blog before, magazine editors seem to have an endless fascination with putting Barack Obama on their covers. Which, in turn, leads to fascinating graphic portrayals—some, you might say, angelic—and, naturally, perhaps, some overlap. Like this.
Both shots come from the same photo shoot. The original shoot (by renowned, one-named photographer Platon) was commissioned by Time; Esquire bought the cover shot from Platon.
I asked Esquire design director David Curcurito for background. He referred me to a lengthy interview Michael Norseng, the magazine's director of photography, gave to Rob Haggart, former photo director for Men's Journal and Outside and blogger behind A Photo Editor:
In response to the original question you refrenced, "we wonder how Esquire failed to get an exclusive portrait for their cover" my guess is that they didn't bother to read Charles Pierce's story on the inside of the issue "The Cynic and The Senator Obama." Charles observed the Obama campaign from the outside, as the millions of us in the crowd are doing, and offered a critical appraisal of the Senator without a sit down interview. As you know, it's rare, especially for a guy who had bigger fish to fry at the time of the issue, to participate in a shoot when there is no direct involvement with the piece.

We were of course aware that the Platon shoot was originally commissioned by Time and how they ran the material. However, Platon has a long history of shooting key political figures for Esquire, starting with, one of the most iconic of all time, the Bill Clinton cover in December of 2000. Since then, he has done others, GOP candidate McCain in '06 and Senator Edwards in 07. So, if a shoot would have somehow presented itself, its fair to say that he would have been at the top of our list. Thus, we were extremely happy that the B/W shot was available and that we got it for our cover.
My guess is that they feel in love with the image, and probably figured that in this election cycle, six months is an eternity, and few readers would notice (given Curcurito's trademark coverline treatments) and those that did wouldn't care.
Meet the Author
---