Is Esquire Shafting Subscribers with Blinking Cover?

Also, how David Granger's boredom with print led to innovation.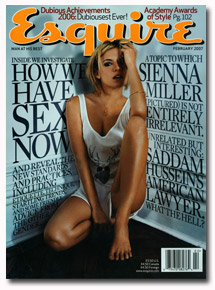 RELATED VIDEO: Granger on the Industry's Need to Innovate
David Granger is clearly bored with magazines.
Last fall, during a keynote at the FOLIO: Show in New York, Granger admitted that when he reflects on his job as the editor of Esquire, he gets bored with the print medium. "F*ck, I'm still editing a magazine," he said at the time.
That thought has led to a number of "innovations" under Granger's watch: novellas published in the margins, graffiti and wall-style coverlines and, most recently, a cover that blinks.
To commemorate its 75th anniversary, 100,000 copies of the October issue of Esquire will feature a flexible electronic "paper" cover that allows the words "The 21st Century Begins Now" to scroll across it—a first for magazines, according to parent company Hearst.
Click here to read about the company's decision to publish a blinking cover, and here to read about the technology behind it.
What's interesting to note is that those 100,000 blinking covers have all been earmarked for Barnes and Noble and Borders—not, as one Esquire subscriber pointed out, his mailbox:
As an Esquire subscriber, I was excited to read about this use of technology. They've been running special covers all year in celebration of 75th anniversary, so I was wondering what they were planning for the October issue. But now I'm ticked that the issue will only be available on the newsstand. What will subscribers receive? A consolation-prize cover? I wonder why Esquire decided to treat its subscribers as second-class citizens compared to the looky-loos who will pick it up and play with the cover for a few minutes at Borders or Barnes and Noble, but not actually buy it.
I asked Granger for a comment. Here's what he said: "Subscribers will get a more conventional, albeit beautiful cover—200,000 of those more conventional covers will also be distributed on newsstands."
Meet the Author
---