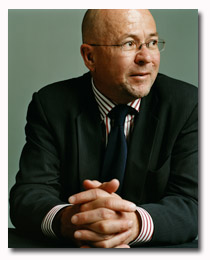 Since the report last week about Esquire's flashy e-paper October anniversary cover—and our follow-up on the technology behind it—I've been hearing/reading a lot of negative opinions about it.
One Web site called it obnoxious. Rex Hammock said it was "the worst use of technology by a magazine." Fast Company, in a blog post, estimated that the manufacturing process increases the issue's carbon footprint by 16 percent over other typical print publications. But, if you ask Esquire editor-in-chief David Granger, the technology could help revolutionize the way we read magazines, beyond the printed page and online.
"When I talk to groups I sometimes speak about the days I had when I'd get the new issue of Esquire and go through it and think to myself, 'Fuck, it's still a magazine,'" Granger said in a recent interview with FOLIO:. "What I mean is that the medium is so compelling that I and we should all be able to do more with it. The magazine experience is one of the last remaining opportunities to enter a hermetically-sealed world, an edited experience of our culture created by someone else. And, more importantly, it's an experience that encourages you to stay in it rather than constantly bounce in and out of it.
"We have an amazing medium, print, and if we can enhance the experience of it by putting new technology to use, then all the better," he said.
Bob Sacks, an industry consultant and frequent proponent of technology, says that Esquire's flashy cover may be a small step overall but offers a glimpse of what's to come in the next few years.
"It's not a representation of what e-paper was designed for, but doing the cover is the right thing to do," Sacks says. "It will be a demonstration of what it can be used for. In the near future we all will have flexible e-paper readers in our pocket and will be able to access all the magazine and books you want."
Right now, the technology is expensive and, if you believe Fast Company, not very green. Granger says that, with time, he hopes the technology will become cheaper. Maybe, after some refining, the application will become more realistic and environmentally-friendly, too.