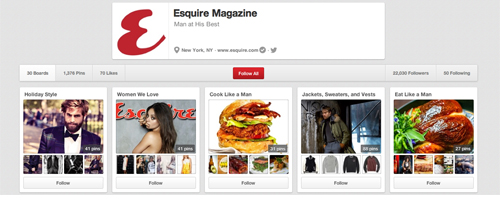 Pinterest announced that it's enhancing its article pinning capabilities, allowing for more information to be seen on the pin, including headline, author, a story summary and the link.
The idea is to encourage save-and-read-it-later activity, and Pinterest is already featuring a number of publisher partners for the service including The New York Times, Fortune, Rolling Stone and Esquire, among many others.
Given this publisher mix is not solely about decorating and recipes, the article pinning enhancement could be seen as a tactic to draw more male users. But it goes beyond demographics.
"Pinterest is probably committed to getting more men on the platform and we want to be there as they do that," says Ross Geisel, director of audience development and social media at Hearst Magazines Digital Media, who's referring to Esquire. "This is a good first start. A lot of the other brands doing this are men's news heavy."
According to a post on the Pinterest blog by software engineer Jon Parise, more than 5 million articles are pinned every day. And the feature plays well into the platform's ability to resurface older content as trends cycle back around.
"Pinterest is so different than the other social platforms," Geisel says. "Twitter is about recency and Facebook just sort of altered its algorithm to allow that older stuff to bubble back up. But Pinterest is really about seeing things we haven't thought of in a while that bubble back up and drive traffic back to the site. You rediscover content over time."
Hearst brands have all been using Pinterest for years, some rely on it more than others as a significant traffic source, Esquire has about 22,000 followers, but the article pinning feature may level that playing field a bit.
"[Pinterest] has been on the [Hearst] platform for a while now," says Geisel. "It's very brand-specific, but it's a significant amount of traffic. From an Esquire standpoint, it's not their largest referral by any means, but we're seeing the counts grow and finding it worthwhile to be there."
Bottom line is by enhancing and featuring article pinning, Pinterest has greatly expanded its utility among users and its partnership capabilities with more publishers. The new engagement dynamic can be seen with users pinning a greater variety of content—image-based content as well as longer articles. "Allowing the user to save it for later is pretty genius on their end," says Geisel.