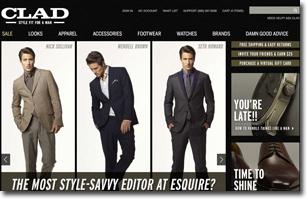 After an extremely short run, J.C. Penney's Esquire-curated ecommerce site, CLAD, shutters. CLAD debuted in November 2011, and its final sale will end January 31.
Shortly after its recent $38.5 million investment in Martha Stewart Living Omnimedia, the J.C. Penney Company pulled the plug on cladmen.com. It appears as if MSLO's physical presence (Martha Stewart brand sections are to debut in jcpenney stores in February 2013) meshed with the retailer's new brand strategy, while Esquire's digital CLAD did not.
Of the decision to close CLAD, a J.C. Penney spokesperson says, "CLAD will cease operations effective April 27 in order to focus on the transformation of our core brand, jcpenney."
In November, Esquire editor-in-chief David Granger told FOLIO:, "Esquire has been exploring ecommerce operations for more than two years and the J.C. Penney opportunity–which is part of a larger corporate deal created by the CEOs of Hearst and J.C. Penney—offered us more creative input than any of the other options we explored. At the same time, it allowed us to work with one of the major players in retail."
CLAD's closure follows J.C. Penney's introduction of its Fair and Square Pricing strategy, among other new initiatives.
A company statement describes the new pricing system, "Everyday, regular prices,; Month-Long Values, even better prices on the things you need now; and Best Prices, jcpenney's lowest prices, which always happen on the 1st and 3rd Fridays of every month."
The J.C. Penney Company also announced plans to reorganize its stores into "a series of 80 to 100 brand shops. And, throughout, the new jcpenney store experience will merge the physical and digital worlds, assuming the physical retail stores' vital role as the centerpiece of retailing's future."
Esquire publisher Hearst also did not immediately respond to inquiries concerning the closure.