Esquire Cover: 'Let's Not All Get Crazy at the Same Time'

Bob Sacks weighs in.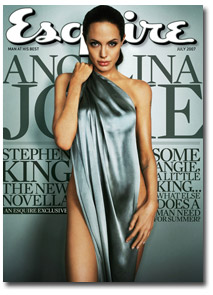 Lots of observers weighing in on Esquire's electronic cover. Many, like Hammock Publishing head and noted blogger Rex Hammock, have been critical. (Of Esquire editor David Granger, Rex wrote: "For the editor of Esquire to admit—in public, no less—that his solution for thinking his magazine is 'only a magazine' is adding blinking words to the cover should be grounds for his transfer to another position at Hearst where he can get over his, er, boredom.")
Consultant and newsletter producer Bob Sacks, though, is giving Granger props:
Please, let's not all get crazy at the same time. So many people are over-reacting to the announcement that Esquire is using e-ink on their cover that I almost don't know where to begin. But almost isn't don't know.

First and foremost, this is a clever magazine cover gimmick for a 75th anniversary cover. Period, end of story, except for all the brouhaha. They deserve to do something special. And e-ink is going to be something special. In this case it is underutilizing the power and the possibilities of e-ink, but what the heck? You have to start somewhere. And this year our industry starts here on the cover of Esquire with a flexible, magazine-bindable production of e-ink.

We as an industry have been inserting and on-serting for generations. Believe me I know, as I was partly responsible for the AOL onslaught of on-serting and inserting first fragile plastic diskettes and then CDs into magazines. The computer and music sectors have been doing this for years. The women's service groups have inserted hundreds of items including such nutty ideas as shampoo samples which in the course of palatalizing squished and squeezed the samples all over the printer's bindery floor. So ease off on the condemnation that gimmicks are something new or distasteful.

And the same thing is true for the carbon footprint. Why is Esquire being singled out?
I'm the first to admit that we have been reckless as an industry when it comes to carbon foot-printing and inefficiencies, but to single out a single publisher … pure and absolute rubbish. Anyone who is starting to condemn a single gimmick in a single magazine doesn't know the industry, the history, nor the true story of magazine sales and magazine production.

E-ink or e-paper is special, in fact it is very special, and it is an integral part of the future of the magazine business. If we are going to have a big future at all, it is going to be digital. We will combine the ease of use of digital editions of magazines with the portability of brilliantly colored WiFi connected epaper, with a drastically lower carbon footprint than today and dramatically reduced manufacturing costs. What's not to like? What part don't we understand?

Publishers sell words and thoughts, not paper and printing? For those who need to hear me say it again, printing ink on paper is not going to go away; it is also not going to be the dominant distribution vehicle of information.
NOTE: Click here to sign up for Sacks' indispensible, thrice daily newsletter.
Meet the Author
---