Esquire.com Increases Its Focus on Style

Site director Michael Sebastian tells us why.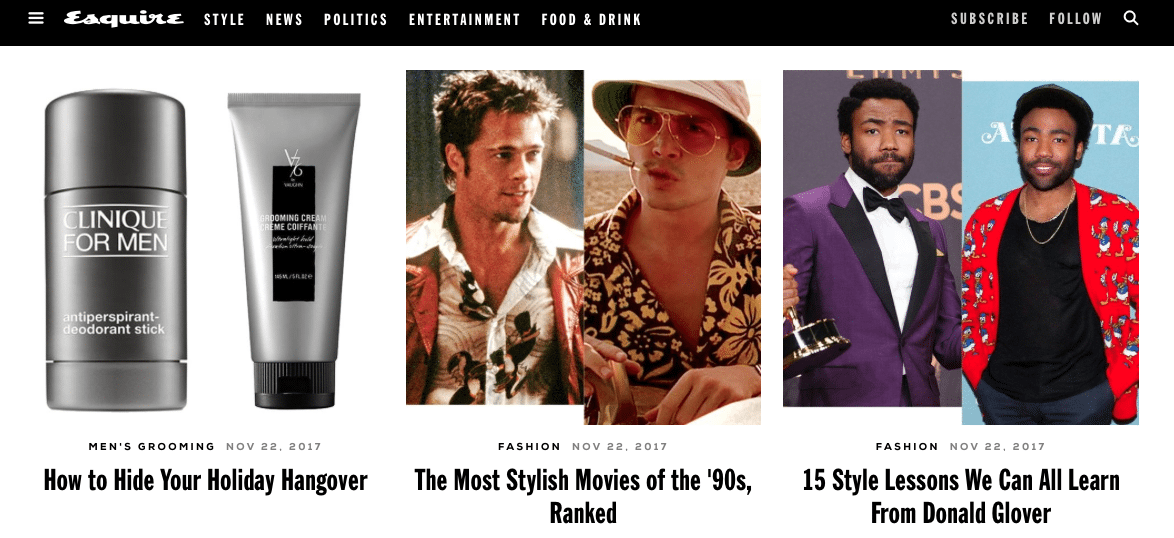 ---
Esquire.com saw writing on the wall that fashion and style offered the brand an opportunity to not only increase audience engagement but also build new business. To best do that, the brand decided to build out a new customized environment for that content to live and develop bespoke products for its partners. We caught up with site director, Michael Sebastian, to learn more about the new vertical and what else he and the team has in the pipeline.
Folio: Tell us about the relaunched style section and the purpose behind it?
Michael Sebastian: The new style section looks different from the other sections on Esquire. com—both the layout and the marquee, which will be customized every week—to set it apart visually. In terms of the content mix, we're leaning into more service, more inspiration, more commerce (you should be able to easily buy everything we recommend), and more journalism, meaning we're going to report stories on the brands and trends our readers care about.
Folio: What new partnership opportunities does this offer the brand?
MS: There's been a lot of interest from advertisers—the relaunch was sponsored by Seiko, for instance—but it also opens us to opportunities around e-commerce. We partnered with a fashion brand to sell one of its limited-edition products on the site. (For the first 24 hours of the product being on sale, the only way a consumer could buy it is by clicking a link on Esquire. com). In 24 hours, we sold thousands in revenue—and it's a product our editors fully embrace.
Folio: We see you've increased traffic by 15 percent in fashion and style since focusing on the segment. How did you do it specifically?
MS: We started amplifying our style content in new ways, optimizing it more for search and, in some cases, seeking more social friendly packaging. In only a couple months, we started to notice growth and thought: if we go all in here we could really make a dent. Also at this time, we started executing on an e-commerce strategy—really the first time Esquire has done this in earnest—and have seen 400 percent year over year growth.
Folio: Do you have any plans to you target and other segments?
MS: We're planning more watch coverage. We'll also ramp up our grooming coverage— we're developing a video series around beards, in fact—as well as cultivating a new style essayist to bring more humor to the section. Outside style, we've ramped up our food coverage, as well as our sex/relationship content.
Folio: What's the relationship between the site and the magazine? Do your teams work together in any way?
MS: Although we're technically separate, the Esquire print and digital teams have an excellent relationship. We meet throughout the week so they know the longer term projects we're working on and vice versa. We also work with them on the strategy for how to roll out print stories online. Some brilliant people work on the print magazine, and I'm learning a lot from them.
Folio: In more general terms, what should we expect from Esquire.com in 2018?
MS: There will be this sustained push around style content. We're also thinking about our political coverage—particularly how we're going to cover whatever comes out of the Mueller investigation and the midterm elections in the fall.
Meet the Author
---