Esquire Cares, Part I

David Granger really does care about the table of contents.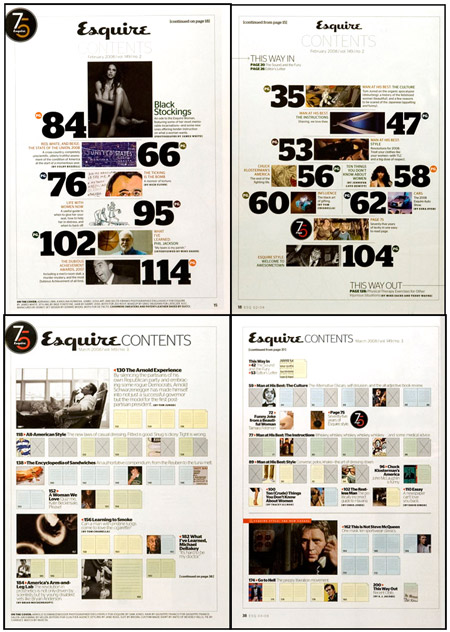 I wrote a while back that most magazines were not particularly concerned with that ambassador to the reader, the table of contents page. Still true—but Esquire is an exception to the rule. TOChinations at the magazine predate January's redesign—the book has a history of putting collaged, structuralist, and sometimes even more whimsical arrangements on its contents page. One (from late last Fall) put content in the form of an array of cubes—it looked more like a recent NYT infographic than anything else. Stunning and inefficient, that version took four pages rather than the usual two.
None of the magazine's recent contents pages are your parents TOC, into which text is unceremoniously poured and routinely formatted. As a whole the pages vary in interest (to my mind the "issue map" version [above, bottom] is a hum-drum take on old gimmick of previewing spreads—first done (I think) by Talk) but as a group they delightfully show the potential of the page.
[EDITOR'S NOTE: Buy Jandos new book!]
Meet the Author
---