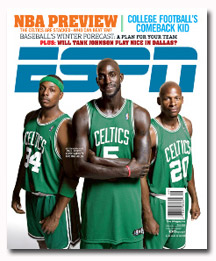 ESPN.com and ESPN: The Magazine writer Jemele Hill was suspended yesterday for making "inappropriate references" to Hitler and the Cold War in an online column.
"Rooting for the Celtics is like saying Hitler was a victim," Hill wrote. "It's like hoping Gorbachev would get to the blinking red button before Reagan."
The piece was posted on Saturday and was updated "within hours," according to ESPN's statement.
"We've spoken with Jemele, and she understands that she exercised poor judgment," the company said. "She's been relieved of her responsibilities for a period of time to reflect on the impact of her words."
The company also faulted its "system of checks and balances" and said it would be addressing that as well.
Fred Toucher, a radio show host at popular Boston station WBCN called for the firing of Hill as the columnist's suspension was announced, according to the Boston Herald. "This is the same woman who called for the firing of Don Imus after his remarks on the Rutgers women's basketball team," Toucher said. "This hypocrisy cannot be ignored. Please call for Ms. Hill's firing."