ESPN Relaunches Rise, Increases Circ to 1 Million

Publisher promises increased distribution to five states.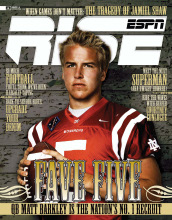 ESPN has officially
launched the rebranded Rise magazine as ESPN Rise. The new issue will be
distributed to high schools nationwide this week.
The rebranding, ESPN
says, was done in an effort to grow the company's 12- to 17-year-old
demographic. ESPN also has increased the magazine's circulation from 910,000 to
1,000,000, saying it will increase distribution in Arizona,
Indiana, Minnesota,
New Jersey and Oregon—where distribution was previously
limited to smaller regional areas.
ESPN Rise will continue to publish 25 regionally-customized
editions eight times per year as well as an annual national edition, ESPN says.
The magazine's Web
site also was relaunched this week.
In December, ESPN acquired
SchoolSports Inc., a high school sports and lifestyle company that included Rise—its
core asset—along with Gridiron, Hardwood and Girl magazines. In May, the
publisher announced
plans to rebrand Rise.
ESPN does not have plans for rebranding the other former
SchoolSports magazines, or to increase their circulations, a spokesperson says.
Meet the Author
---