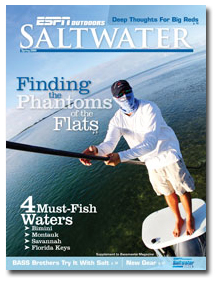 ESPN Outdoors
announced this week that it will launch ESPN Outdoors Saltwater
magazine this April.
The annual title will be distributed to more than 250,000 subscribers of Bassmaster magazine, making it the
highest circulated saltwater fishing publication in the U.S., according
to the Mediamark Research & Intelligence (MRI)  Fall 2008 Report.
ESPN Outdoors Saltwater will provide enthusiasts with an insider's
perspective on saltwater fishing and will include features from various
locations of the ESPN Outdoors Saltwater Series, including tips and
technique articles, human-interest focus and photo essays.
A free,
digital copy of the magazine is available on the ESPN Web site.
"We have had tremendous support and response from the saltwater
fishing manufacturers," James Hall, editor, ESPN Outdoors
publications, said in a statement,
The ESPN Outdoors Saltwater Series will make its television debut on ESPN2 with six 30-minute episodes starting March 29.