ESPN The Magazine Story Made Prescient by Plaxico

Content VP says editors 'weren't lucky—they were good.'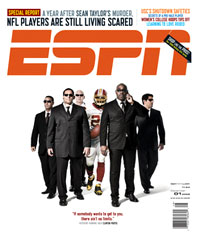 A week and a half ago, ESPN The Magazine published a cover feature—"Living Scared"—on NFL security. (The story's dek read: "A year after Sean Taylor's murder, NFL players still live in fear.")
You can see the impact of Taylor's death in the body language of 315-pound Chiefs rookie Branden Albert as he leaves a club, checking and rechecking his rearview mirror to make sure he isn't being followed. It's in the nervous laughter of Steelers QB Ben Roethlisberger when he recalls the time a weapon was waved in his face. It compels Jaguars running back Fred Taylor to use the car with the less showy factory rims when he goes out at night.
Following the news that Plaxico Burress, the New York Giants wide receiver, accidentally shot himself at a Manhattan nightclub with a gun he allegedly didn't have a license to carry, the magazine's story is now prescient, Keith Clinkscales, ESPN's SVP of content development, told executives during a panel at the WWD Media + Style Summit Thursday.
Of the story, he said, the magazine's editors "weren't lucky—they were good."
Now, no disputing the talent of ESPN's editors. (Check out FOLIO:'s video interview with GM Gary Hoenig to get a better sense of how the editorial team is managed.)
But, c'mon Keith, of course there's luck involved. You mean to tell me ESPN's editor's sensed a star wide receiver would carry a glock into a nightclub, accidentally shoot himself and allegedly try to cover up the incident, a week after this story was published?
As anyone who watched last year's Super Bowl will tell you (Eli Manning to David Tyree, anyone?) you need a little luck to go along with that talent.
Meet the Author
---