ESPN the Magazine: 'Reimagined'

Single-topic issues could spell advertising success and/or fewer readers.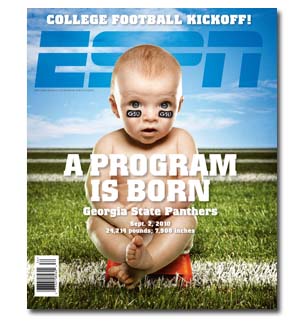 A lot of changes are happening at ESPN the Magazine. As it announced earlier this summer, the magazine is moving much of its operations from Manhattan to the company's headquarters in Bristol, Connecticut. What's more, the magazine is shifting to a single sport or theme per issue.
From a publishing perspective, I think it could be a great idea. The magazine will be able to plan content further in advance which potentially could allow the sales staff to start selling ads early, and perhaps also target advertisers that are relevant to the theme but have never bought any space in the magazine before.
Through the first six months, ESPN the Magazine reported a 26.4 percent increase in advertising pages, according to figures from the Publishers Information Bureau. Estimated revenues jumped more than 30 percent to $125.57 million.
"ESPN the Magazine reflects the belief that successful magazines embrace their inherent print qualities while innovating, both in print and digital form," the magazine says in a statement announcing the first of its single-topic issues—a College Football Preview, hitting newsstands Friday August 13. "ESPN the Magazine's new approach enhances its 'page plus' content push from its print product to TV, ESPN Insider, iPad and iPhone platforms; The Mag shares a bundled subscription model with the latter three. ESPN the Magazine is the No. 1 magazine among men 18-34 and reaches a diverse audience mix—No. 1 with both African-American and Hispanic readers."
And although not technically a single theme, ESPN had a good amount of success with its "Body Issue" last year, which featured a throng of semi-nude athletes appearing in and on the cover. For obvious reasons the issue stirred up a lot of attention, especially with readers. ESPN's Insider, the paid content arm of ESPN the Magazine, saw 400 new subscribers within hours of the Body Issue content being posted online.
But will single-theme issues scream out to readers off the newsstand? With the Body Issue, people presumably were gobbling up subscriptions in order to get an eyeful of tennis star Serena Williams, basketball player Dwight Howard and Australian pro surfer Claire Bevilacqua in the buff. That won't be the case with every issue. Editorially, will a model that covers mostly one sport or theme (the single-topic content in this Friday's 150+ page issue starts on page 60) attract as wide an audience as the current iteration?
It might not matter much. According to the Audit Bureau of Circulations' most recent FAS-FAX report, only 17,034 of ESPN the Magazine's 2,073,813 total paid and verified circ came from single copy sales (which declined 14.9 percent compared to the same period last year—overall circ remained steady).
ESPN also unveiled two of the new multi-page front-of-book sections in the "reimagined" magazine, called Go and Play. Sample pages of those new sections are below.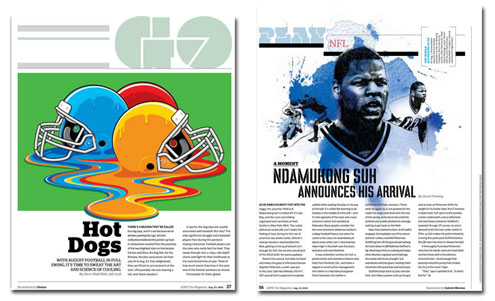 Meet the Author
---