ESPN the Magazine Looks Beyond the Magazine

Sales, edit teams to ramp up multimedia content for 'next generation.'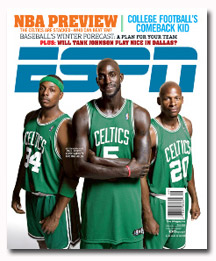 NEW YORK—In this difficult economic climate, publishers are scrambling for every advertising dollar they can get. ESPN the Magazine is no exception.
At a media breakfast here this morning, some of the magazine's top executives announced plans to dramatically expand its multimedia platforms, launching the magazine "into the next generation."
"While the magazine is our core, we are not bound by print and paper," vice president and general manager Gary Hoenig said. "From mobile to the laptop to the magazine, we're expanding our dimensions so sports fans can find our content on whatever platform, anywhere."
'Absence of Paid Content Online a Big Problem'
One opportunity Hoenig sees for generating revenue is expanding its subscription-based "Insider" premium content channel at ESPNtheMag.com. Right now, print subscribers can access the site for free. Other users are able to subscribe for a $39.95 annual fee.
"I think the absence of paid content online is a big problem," Hoenig said. "We have been giving away content for way too long."
Hoenig says there are roughly 350,000 users signed up for the insider service, many of which are print subscribers. Over the next three months, he hopes to ramp up marketing efforts—and editorial—in order to boost subscriptions. Details of how the magazine will accomplish this are still being hammered out, he said.
As for the print magazine, Hoenig said his design team is working on a major redesign that he anticipates to launch sometime in the coming weeks.

Selling the Integrated Package
Steven Binder, vice president and publishing director of sales, explained how the magazine is extending its editorial content—and advertising sales capabilities—online, in mobile, on television and into a digital edition (which was soft-launched late last year with Zinio). Binder says he and his team are developing integrated packages that begin with print—meaning that advertisers that want to advertise online also must purchase ad space in the print magazine.
Right now, Binder said, multimedia accounts for about 15 percent of ESPN's overall ad revenue mix.
Meet the Author
---