ESPN The Magazine Celebrates 10th Anniversary with TV Special

Hour-long show highlights the magazine's features over the last decade.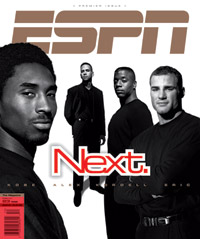 As part of its 10-year anniversary, ESPN The Magazine has produced a one-hour television special highlighting some of the magazine's biggest moments over the decade.
"Since ESPN The Magazine was first published in 1998, there has been a steady relationship with our TV networks," says John Dahl executive editor, ESPN content development. Over 30 stories featured in The Magazine have been done on ESPN as well. Because of this connection, we felt it was appropriate to have a television component to the commemoration of the 10th anniversary."
Hosted by ESPN staffer Kenny Mayne, the program will feature the magazine's the first piece on boxer Tommy Morrison, a look at performance-enhancing drugs, the infamous Mike Ditka and Ricky Williams wedding coverand special outtakes with rapper Snoop Dogg.
ESPN The Magazine's 10th anniversary issue is set to hit newsstands March 12 [the magazine's first cover in 1998 is pictured above]. The special program will be aired on ESPN Sunday February 17 at 8 p.m. (EST).
Meet the Author
---