Eric Kammerzelt

IT director, Cygnus Business Media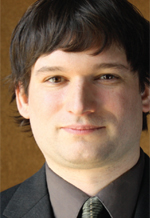 Kammerzelt personifies the evolution of IT from support staff to strategy driver.
Eric Kammerzelt joined Cygnus in December of 1998 as the network administrator, after serving as a server administrator for Quad Graphics. He was promoted to corporate IT director in November of 2006.
"When I started at Cygnus we had very little network to speak of," he says. "I remember visiting one of our major offices and e-mail was little more than a shared AOL account on a single PC in a corner."
At the time, Cygnus was just starting to build Web sites and couldn't do that effectively without any internal framework. Kammerzelt oversaw the hiring and training of a help desk staff which eventually became a central part of the IT department Cygnus has today.
"Once infrastructure was well established, I began looking for other opportunities," says Kammerzelt. "One opened up at Cygnus to become more involved with business applications and publishing workflow."
In early 2007, Kammerzelt promoted one of the help desk staff most experienced with publishing workflow into a Web application development role. He also hired and cross-trained external talent to better align with Cygnus' interactive technology direction. The group started small but had immediate success with a digital rights management system that solved a number of problems the company had with tracking contributor agreements through print, digital, and third party licensing.
The group also standardized the product and company database system used to populate print buyers guides and directories.  The buyers guides were re-designed to tie into that database. "Traffic more than doubled in a few months," says Kammerzelt. "This was largely a result of better search engine optimization and better content due to integration with the print workflow.  The pilot guide, equipment.forconstructionpros.com, is currently responsible for 40 percent of that portal's traffic and generates over 50 leads per day by itself."
That success led to a very ambitious project in 2009 to expand the system to become a digital warehouse and publishing workflow tool for all content. "We launched the digital warehouse product in Q4 2009 and are in the deployment stages now," says Kammerzelt.
VITAL STATS: Cygnus forecasts interactive revenue to be $18.4 million or 24.4 percent of total revenue by 2013.
BACK TO THE 2010 FOLIO: 40 MAIN PAGE 
Meet the Author
---