[This story originally appeared on Folio: sister site Minonline.com]
Epicurious was doing mobile long before most service brands were even thinking about a post-desktop world. Still, its app presence was getting long in the tooth and in need of tech and design updates. The new iteration for both phone and tablet boasts a new voice activation recipe interface for easier kitchen use as well as enhanced layouts and easier sharing tools.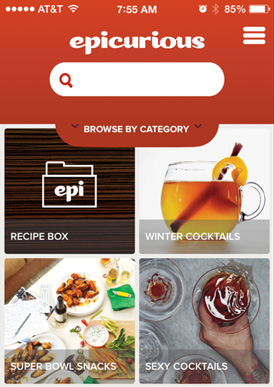 Wisely, the Epi app targets loyal users with seamless access to a registered user's existing recipe box. Our online saved recipes showed up in the app quickly, and new tools allow the user to sort and search the box easily. There is a good workflow to the app, in that recipes can be converted to shopping lists easily and selectively with large checklists for adding and subtracting items.
Voice commands are rudimentary – letting you advance or retreat one screen at a time or jump to the Ingredients or Preparation section. We have seen better implementations, where voice advances through oversized renderings of each step. Also, text-to-speech would have been helpful as well. The sharing tools are fine and extend to Pinterest. The discovery mechanisms are simple and strong, using a combination of search box and basic filters for time, kid friendliness and health consciousness.
Unlike a number of cooking apps, Epi does not push its video assets at all. If there are links here to the brand's many how-to and prep videos we missed them. Considering the wealth of streaming media the site has amassed by now, and the popularity of video on devices, it is a surprising omission. Likewise, despite the touted redesign, the food images are never allowed to fill much of the screen to entice the user in quite the same way we have seen elsewhere. We also suffered numerous app crashes on both iPhone and iPad versions of the app.
Overall, the new Epicurious app is workmanlike and competent, if not dazzling. It seems aimed at the loyal base rather than at customer acquisition. It provides the necessary discovery, shopping and food prep tools in usable formats. But there is no killer feature here to raise its profile above the mass of rivals in the space.
Grade: B –