'An Environmentalist and Magazine Publisher Walk Into a Bar …'

Collaboration key to green publishing.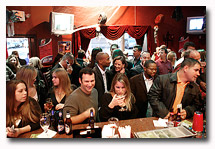 "An environmentalist, a paper mill rep, and a magazine publisher walk into a bar," the joke goes. "The environmentalist says to the other two … well, nothing. Those three would never drink together."
That perception is quickly being dismantled as growing numbers of collaborations make the adversarial relationship just an outdated stereotype.
At two separate events during the American Forest and Paper Association's (AF&PA) Paper Week in New York City earlier this month, I presented at sessions where both industry and environmental non governmental organizations (ENGOs) gathered to discuss challenges related to recycled paper production.
At the AF&PA's General Session on Recycling on April 1 at the Waldorf, I have to admit I was a bit nervous about how I would be received by the attendees. I'm sure that AF&PA was also a bit nervous about what I might say. The reality is there was nothing to be nervous about from either perspective. After all, dialogue doesn't amount to much if everyone agrees with everyone else in the room.
Ultimately, there was a great deal of mutual respect and many of us left feeling hopeful about our collective ability to work together cooperatively and effectively.
Most of us agree that we must begin working together if we are to succeed in making the paper production and consumption industries economically viable and environmentally sustainable.
My presentations at both events outlined the "three-legged stool" strategy to simultaneously increase paper recovery, deinking capacity and recycled paper demand.
First, in order to satisfy growing demand for recycled paper, North America needs a better paper collection system that yields significant amounts of clean, high-grade office paper. Second, increased collection requires greater capacity to "de-ink" the recovered paper and supply paper mills with deinked pulp to produce the recycled paper.
The third leg is growing and consistent demand for recycled paper from major paper purchasers. Without this, mills won't be comfortable investing the hundreds of millions and billions of dollars necessary for renovating or constructing new plants to produce more deinked pulp.
So, How Can the Industry Succeed?
At the EPN's first "Beating the Bottleneck" roundtable in 2007, 55 representatives from mills, merchants, printers, ENGOs, and governments participated in a very productive discussion and identified next steps. The EPN followed up by issuing a report that outlines the landscape of the issue and by hiring a project coordinator.
Over 60 stakeholder representatives attended the second roundtable last month, where the manager of technical services for Myllykoski Paper Company in Alsip, Chicago spoke to the challenges of producing clean, deinked pulp from recovered paper. The paper manager for Reader's Digest Association, publisher of Every Day With Rachael Ray, also spoke about their recent switch to-and growing demand for-recycled paper. The animated discussions produced some great ideas and the notes will soon be available to any one that is interested. Contact me if you would like the notes of last year's event.
One of our next tasks is recruiting an "All-Star" team of experts from the relevant public, private, and ENGO sectors to form a technical advisory group. The group will help guide a process whereby stakeholders can work together to create a recycled paper production and consumption system that is both economically and environmentally responsible.
After the roundtable ended there were about 25 of us "non-traditional allies" all hanging out enjoying wine and snacks. So, don't be surprised to soon hear a different ending to that bar joke.
[EDITOR'S NOTE: For more information about the Beating the Bottleneck Roundtables, contact Pam Blackledge, recovered fiber coordinator for EPN at pam@environmentalpaper.org or (936) 462-1528.]
Meet the Author
---