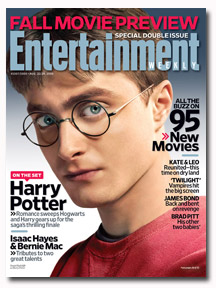 Entertainment Weekly announced today that it has formed a partnership with digital video recorder creator TiVo Inc. that will allow EW editors to recommend TV shows to TiVo subscribers. The TiVo service will then automatically record those programs. The service is expected to launch this fall.
EW's "What to Watch" recommendations will mirror the weekly guide that the magazine has on its own Web site, EW.com, and will bear the same name. In addition, TiVo subscribers will be able to download EW video content on the TiVo service, allowing viewers to view original programming such as "Just A Minute," "Ausiello TV," and "Idolatry."
"This partnership creates an exciting new service for our fans, closing the loop between the entertainment choice we spotlight and our audience's ability to connect directly to those entertainment experiences," EW Publisher Scott Donaton said in a statement. "Additionally, it offers a whole new viewing vehicle for our original video programming currently only available on EW.com."
According to ABC's most recent Fas-Fax report, Entertainment Weekly's single copy sales fell 7 percent during the first half of this year, but its overall paid circ rose slightly by 0.8 percent.