Entertainment Weekly To Feature 'First-Ever use of Video In Print'

Partners with CBS and PepsiMax for insert in September 18 issue.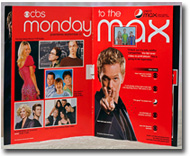 Entertainment Weekly's Fall TV Preview issue will include an ad from TV network CBS and its partner Pepsi Max consisting of an interactive video player featuring five channels of CBS and Pepsi Max content.
The ad will be inserted into select copies of Entertainment Weekly's September 18 issue (on newsstands September 11) in New York City and Los Angeles. CBS is calling this "the first ever use of video in a print advertisement."
The two-page ad features a flexible plastic screen created by Americhip. When the reader opens the ad, an intro featuring the cast of the CBS Show "The Big Bang Theory" describes how the insert works. Readers then have the option of pushing five buttons (four are promotional spots for CBS shows, one is a PepsiMax ad).
"With any of these inserts, it's less to do with the video and more with the weight," Paul Caine, president of style and entertainment group at Time Warner, told FOLIO:. "Anything larger than the typical page requires additional production and a different type of handling. This is why we often work with CBS and Americhip because our production teams well versed on how to handle these kinds of units."
The player will contain 40 minutes of video and can be replayed for up to five or six hours.
Meet the Author
---