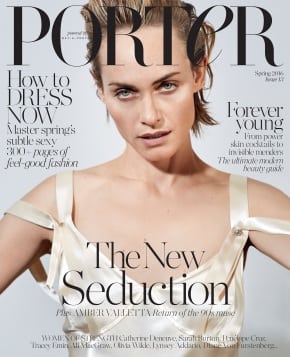 Updated as of 3/1/16 at 12:21 pm.
Magazine publishers are reaching consumers through more channels than ever before, and audience measurement is no longer just a game of circulations, newsstand sales, and rate bases.
With that in mind, media assurance agency BPA Worldwide added a new gauge of audience impact to its latest report on Porter, the magazine published by online fashion retailer Net-a-Porter, attempting to measure the effectiveness of the print publication in generating actual purchases of advertised products.
Using a smartphone app developed through a partnership with tech firm Blippar, Porter subscribers who scan items directly off of the magazine's pages are then taken to a website where they can purchase the items—either from Net-a-Porter or directly from the advertising brand.
"There's a negative outlook on what is happening in the publishing industry, but publishers are doing a lot of good things," Francis Stones, BPA's director of European operations, tells Folio:. "It's just taken some time to grow and build awareness of what they're doing."
Part of building that awareness means developing ways of selling these new initiatives to advertisers. Since the bi-monthly print title's launch in 2014, products have been scanned from Porter's pages more than 85,000 times, according to BPA—a precise metric of audience engagement with print, which Stones says is often difficult to quantify.
While e-commerce may no longer exactly constitute a new or novel revenue stream for publishers, a media brand's "shoppability"—as Porter calls it—has never been independently, reliably audited, according to Stones.
"What we're hoping is that these reports bridge the gap between the 'old world' and the 'new world,' what advertsers actually do want to see and the metrics that they want measured," he adds.
All of this is part of an effort by publishers to measure loyal, high-affinity segments of their audiences who can then be sold to publishers at a premium price point, Glenn Hansen, BPA president and CEO, tells Folio:.
"As publishers gather more and more data on usage across channels—take, for example, email newsletters—they are more likely to ask, 'How frequently do they open the newsletter? What do they do with that? And how many times does that same person come back to the brand?'"
Obviously, highly-engaged consumers are much more attractive to both publishers and advertisers alike, but identifying those high-affinity audience members isn't always simple. After readers fill out subscription cards or subscribe for email newsletters, the challenge lies in identifying those that continue to consume a magazine's content across various channels—print, digital, social media, events—and those that simply ignore it.
That's where new, electronic means of measurement come in, solutions Hansen believes more brands will begin to embrace in the near future.
"Publishers are telling us that its expensive to get that information renewed, yet at the same time they are tracking engagement and affinity," Hansen tells Folio:. "So while they had them go through the process of subscribing or qualifying two years ago, they can prove to [advertisers] that they've engaged with social, events, webinars, white paper downloads—anything that has a response mechanism that's electronic—within the last 30 days. Even though they gave me the info years ago, they're still actively engaged invidivuals. I can see that coming."
It might sound like quality winning out over quantity, but Hansen says the latter is still important. Brands still need to know the size of their potential audience and seek to maximize their saturation of that market.
"Where we're seeing [lead quality] have some impact is the price paid to speak to that quality person," Hansen continues. "If someone only came in one time in the last six months, maybe there's a certain price point to advertise to that person. If someone comes in religiously, once a week, that's a much more highly-engaged consumer, and therefore, we know that some publishers are saying that reader carries a premium price."
Both Hansen and Stones expect more publishers to follow Porter's lead in attempting to quanitfy and measure "shoppability," a metric that Stones expects will become more sophisiticated in future reports as BPA aims to paint a more accurate picture of aspects like rate of purchase.
"There is always, in our opinion, a first-to-market mover advantage," Hansen concludes. "We think that Net-a-Porter is a first-to-market mover and we want to see how thay turn that into an advantage using the data we've provided to them."
Correction: An earlier version of this story listed the incorrect number of product scans for Porter's pages, and credited BPA with coining the term "shoppability." The term was coined by Porter.