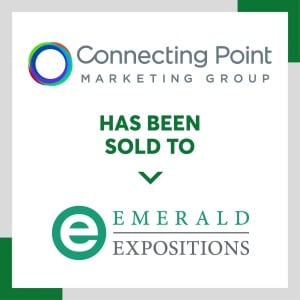 Emerald Expositions Events Inc. has acquired Connecting Point Marketing Group (CPMG), the companies announced today. Terms of the agreement were not disclosed.
Founded in 2004, CPMG organizes nine senior executive level hosted-buyer events in the hospitality, restaurant, healthcare, grocery and retail industries. The company's event collection currently includes RestaurantPoint West, RestaurantPoint East, StorePoint Fashion, StorePoint Fresh, StorePoint Retail, HotelPoint, BuildPoint, HealthPoint, and NextPoint.
The announcement comes weeks after Emerald, a nationwide b2b trade show operator, reported $19.2 million in net income in the third quarter, a 4.3 percent increase over the same period last year.
With the acquisition, the CPMG team, comprised of 19 employees based in Rye, New Hampshire, will now join Emerald Expositions. Nancy Splaine, senior vice president/general manager of CPMG will report to David Loechner, chief executive officer and president of Emerald Expositions.
"We have been innovators in the hosted trade event business, benefitting from growth and change in the industries we serve, and I expect our events to continue to be an important forum for business to be done in the future," said Splaine in a statement. "At this point in CPMG's evolution, we are excited to leverage the experience and market relationships of the various Emerald brand teams, and Emerald's resources and infrastructure, to continue to drive our future success and growth."
"Nancy, Kim and the entire CPMG team have built a great business with an impressive track record of organic growth," added Loechner in a statement. "I am pleased to add CPMG's best in class capabilities, industry relationships and technologies to the Emerald portfolio, to complement our existing expertise in trade shows, conferences and other face-to-face events."
JEGI, an investment bank focused on global media, information, marketing, software and tech-enable services, was the financial advisor to CPMG throughout the transaction process.
Back in March, Emerald Expositions acquired the International Drone Conference and Exposition ("InterDrone"), a commercial unmanned aerial vehicle (UAV) trade show and conference in North America, from BZ Media LLC.