Emerald Acquires GLM for $335 Million

Onex Partners adds to events portfolio after buying Emerald this summer.
Emerald Expositions has agreed to acquire GLM Markets for $335 million from Providence Equity Partners.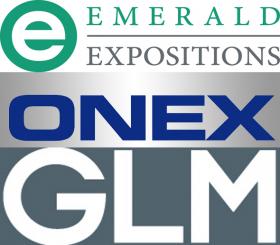 The deal, announced this morning, is expected to close in January. The acquisition will be funded with about $200 million of debt and a $140 million equity investment from Onex Partners.
Onex Partners acquired Emerald—then known as Nielsen Expositions—in June. GLM CEO Charles McCurdy and Providence Equity Partners acquired GLM from the U.K.-based Daily Mail & General Trust in September 2011 for $173 million.
McCurdy says of the deal with Emerald, "We see healthy growth with GLM and the market seems to be realizing the value of tradeshows in a way it wasn't a few years ago. Multiples have expanded and my investment partners saw the value of a transaction."
McCurdy would not disclose information about GLM's current financial situation. However, he did point out that GLM's previous owners said annual revenue was about $75 million when he acquired the company three years ago, "and we've grown at a double-digit rate every year since then."
"It's meaningfully bigger than it was back then," he says.
McCurdy, who was CEO of Canon Communications before acquiring GLM, says he will begin looking for his "next project" once this deal closes next month.
GLM's events include, among others, NY NOW, International Contemporary Furniture Fair, Internet Retailer Conference & Exhibition and Surf Expo.
Emerald, based in San Juan Capistrano, Calif., produces more than 65 tradeshows and events each year.
Emerald Expositions CEO David Loechner says in a statement, "This acquisition expands upon our position as a leading tradeshow organizer in the United States."
Meet the Author
---