Ellen Daly

Senior Vice President, Events, IDG Enterprise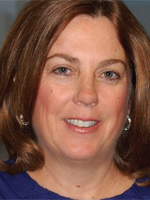 Takeaway: Daly has grown IDG's events division by 260 percent in only three years, executing 350 events in 2012, with plans for more in the next year.
Daly's continual innovation of event style, type and format, in addition to her keen awareness of the latest topic trends, has helped her expand IDG Enterprise's events division by 260 percent—executing 350 events in 2012, up from only 135 in 2009.
Her focus on attendee experience, establishment of conference apps, the evaluation and restructuring of event schedules and evolution of networking opportunities has pushed attendee satisfaction to new highs. Her desire to stimulate adult learners in an effort to educate and encourage them to do their best work has driven her to accomplish great feats.
Daly's understanding of consumerization waves helped her capitalize on the high-interest topic with the March 2012 launch of the Consumerization of IT in the Enterprise (CITE) Conference & Expo, an event that offers IT buyers and sellers an in-depth view of how consumer technology is augmenting and affecting the workplace.
Conference successes included securing 30 sponsors, over 500 attendees and effective social networking reaching more than a half million Twitter users engaging in pre-conference conversations online.
In the next year, Daly will continue to grow the business by launching a CITE-related regional conference in November that will include big sponsors, gamification initiatives and unique content-delivery options.
Meet the Author
---