Elle vs. Vogue vs. Perez

Elle's record-breaking September issue: 420 pages.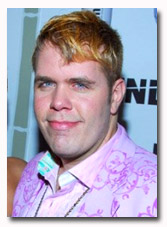 Is Elle gaining on Vogue?
So reports celebrity blogger wunderkind, avid FOLIO: reader and newest source for magazine industry ad page statistics: Perez Hilton [pictured]:
Sources reveal exclusively to PerezHilton.com that Elle is about to have its biggest September issue ever.

At 420 pages, they're up 6.6% from last year. It's the BIGGEST issue they've had, ad page wise. Plus, their August issue is the fourth month in a row that they BEAT Vogue in ad pages.

Why is Elle kicking Vogue's ass in advertising sales? What say you, fashionistas? Anna Wintour's gonna have some explaining to do!
Yes, but what will those pages weigh?
When I contacted Elle to confirm, here's what a spokesperson said: "With 420 ad pages, a 7% increase vs. the prior year, and an increase of 10% in revenue, September's Fall Fashion issue is just one highlight of a successful year. Year-to-date, ELLE's ad pages are up 6%, and revenue is up 9%—an impressive feat for a magazine that has already experienced five consecutive years of advertising growth."
Meet the Author
---