Elle's Green Issue Prank: Fact or Fiction?

Publisher wonders if stickers were actually a hoax.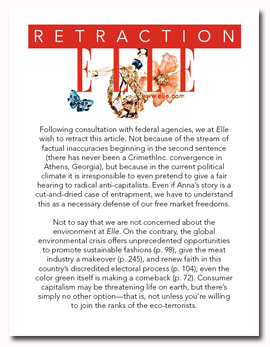 Was this for real?
Late last month, FOLIO: reported that Elle's May green issue was the apparent victim of a prank by which "Retraction" stickers were placed in several copies on an investigative report that examined the eco-extremist movement through the story of a teenage FBI informant.
Earlier this week, someone posted an anonymous comment to the story pointing readers to a site to see the stickers—which claim the Elle story contains "factual inaccuracies," and gives a "fair hearing to radical anti-capitalists"—for themselves.
It appears that Elle parent company Hachette Filipacchi Media U.S. hasn't made much headway into its investigation. According to a spokesperson, no retailers have reported finding the stickers and the publisher has no proof that the prank happened at all.
Was this an actual prank, or was it all staged online with fake comments posted to sites like Ecorazzi?
If this was a real prank, I find it hard to believe that these "activists" managed to get the stickers into every issue on particular store shelves without someone getting spotted red-handed.
And if the stickers were put in the issues before they hit the shelves, does that mean that a distributor was in on the prank? That would add a deeper layer to the apparent vandalism, wouldn't it?
Still, it's a cautionary tale for any magazine—particularly those dealing in fashion—that attempts a "green" issue.
The eco-terrorists are watching.
Meet the Author
---