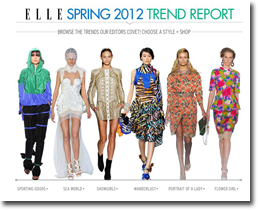 This story first appears on FOLIO: sister site, minonline.

We had "e-commerce" then "m-commerce" and more recently "t-commerce" (tablet commerce for those still catching up). Get ready to add "S-Commerce" to the endless digital lexicon. Hearst Digital Media has given us "social commerce" this week via a new feature at ELLE magazine's Facebook page. The magazine is curating a series of products featured in a pop-up "Trend Report" on its fan page that links directly to the purchase pages for a range of retailers and brands.
The Trend Guide is a Facebook tab that identifies six trends of the season: Flower Girl, Sea World, Sporting Goods, Portrait of a Lady, Showgirls and Wanderlust. Each trend opens up a gallery of related goods. Users can follow an ELLE "Lexicon" of tags or what ELLE calls "custom gestures" that let them "Love" an item, add it to their "Want" list or just declare on the social net that they already Own it. These gestures and related icons are posted as a "Shoppable Story" to one's timeline, newsfeed or ticker. Or you can just tap the Buy! button to get kicked over to the partner's order page.
Affiliates in the program include Gucci, Bebe, AG Jeans, Nine West, Tommy Hilfiger and many others. The new functionality on ELLE's Facebook page will be promoted via email, site and a Facebook ad campaign. Hearst partnered with 8thBridge, whose platform enables integration of transactions within the Facebook network.
Although this is an experiment in "S-commerce" ELLE svp, publisher and chief revenue officer Kevin O'Malley tells minonline that the first version of the model actually doesn't involve revenue. "In this deal there is no rev share," he says. Although the buy buttons deep-link directly to the respective item's sell page at the vendor, ELLE deliberately planned the first version to run without affiliate revenue sharing. "No one really knows if Facebook is a platform for transactional commerce," O'Malley explains. "In iteration 1.0 we didn't want to do a rev share and we said this to all participating brands." It is a learning experience for everyone. ELLE wants to offer consumers the ability to follow inspiration to making the buy, but it is unclear yet whether consumers' social network is the place readers want to shop.
But O'Malley emphasizes that this Trend Guide program was designed to profit the ELLE brand and its partners regardless of sales. The custom Love, Want and Own gestures put the ELLE brand and the partner's item on the reader's wall with a link for all their friends to see and buy it. "The value proposition for us is that even if we don't make a sale, this becomes like a shopping widget that goes out on her wall where friends can see it." ELLE is adding to the Facebook experience by crafting icons and sentiments that are more nuanced than the somewhat blunt instrument of a "Like."
ELLE already has e-commerce relationships with Rue LaLa and HMS. O'Malley says that for now the actual e-commerce revenues for the media company are "small but growing." With every experiment like this, however, the company learns more about how to leverage its editorial authority in moving people to buy as well as the kinds of things people will and won't be likely to purchase on the Web.
The next iteration of the S-commerce Trend Guide will focus on beauty to synchronize with the summer months and the heightened concern for skin and cosmetics. The fall version of the Trend Guide will be refreshed to focus on accessories and will accompany and support the re-launch of the suspended ELLE Accessories brand.