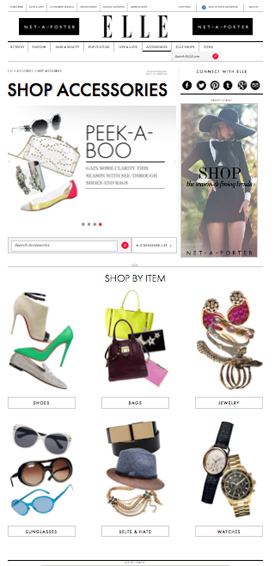 Have you ever wanted to instantly buy something you saw in a magazine? Hearst Magazines is giving readers that option by developing a strategy that not only draws in readers to a special print product, but an online buying experience as well.
Elle Accessories, the bi-annual special issue that relaunched last fall after a four-year hiatus, debuted a new e-commerce platform called Shop Accessories last week that lets readers shop more than 1,100 items that appear in the magazine.
"Shop Accessories is our Web extension to the print Elle Accessories," says Deanne Kaczerski, director of Elle.com and RealBeauty.com. "Users can shop the accessories that appear in the magazine index in the back of the book the way they would on any e-commerce store. They can filter by price, color, designer and subtype—if someone specifically wants blue platforms that are under $1,000, the platform allows the user to find the exact item they want."
In the print version of Elle Accessories users are directed to the Elle.com homepage where an "Accessories" tab allows users to directly click to the store. Special advertising partner Net-A-Porter has signed on, and each of the items featured redirects users to a brand's website for instant purchases.
"It's the next step for e-commerce—our users come to Elle.com specifically for a highly curated look that is trending this season," says Kaczerski. "The next iteration is giving people the ability to shop these highly curated trends. For this database we built, we took all 1,100 products from Elle Accessories and created pages for each product online, which makes up our database online."
The entire database took about three months to build and can be segmented by category (shoes, bags, watches, etc.), product type (boots, flats, sandals, etc.), color, price and designer.
"We knew we needed to do better this time with our spring issue," adds Kaczerski. "So we've come up with a very sleek solution."
Stay updated on the latest FOLIO: news, follow us on Facebook & Twitter!