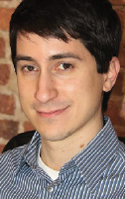 CTO
Industry Dive
Age: 29
Takeaway: Dickinson built much of the digital infrastructure for Industry Dive. The mobile b-to-b publisher launched in January 2012, and now offers five verticals but plans to double that number by the beginning of 2013.
Eli Dickinson is a chief technical officer that wears many hats for the mobile focused b-to-b publisher Industry Dive. In less than a year, Dickinson has been principal in building much of the IT infrastructure including the publication's internal CMS system, its online job board, and data collection platform. Also, his colleagues suggest that his user-friendly innovations have increased productivity and efficiency.
Industry Dive launched at the beginning of 2012, and its objective was to provide mobile and digital trade content for a number of industry verticals. Dickinson says that the concept grew out of the notion that they identified an opening in the market because  "a lot of b-to-b players weren't serving that need, a lot of them don't have any mobile products," and "we wanted products that solved that." It seems they are on the right track to solving that problem, offering online, tablet and mobile products with five verticals and a sixth on its way.
Dickinson suggests that Industry Dive's chief concern when launching was to build its products. Now that the infrastructure is in place, Dickinson states that the company plans on aggressively pursuing audience development strategies to build its brand. Specifically, Dickinson says that, "We are working on some new products that haven't launched yet that are focused on user experience, like the ability to access white papers from a mobile device," adding that "I think people are leaving money on the table by not addressing those users.
"It's going great, it's really exciting to build something new from the ground up, with no legacy," says Dickinson when asked about Industry Dive's expansion in less than a year. "One of the things I think is important is that we build a platform that is scalable," he says, which allows Dickinson and his team to quickly launch and roll out new products. With that in mind, Industry Dive is anticipating doubling its number of verticals by early next year.