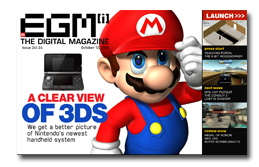 In January 2009, Ziff Davis Media shuttered Electronic Gaming Monthly. Later that year EGM founder Steve Harris purchased the assets back and by the first half of 2010, the magazine returned to print and the newsstand.
Like many magazines, the next step for EGM is to master the iPad but the magazine says it's going a step further by introducing a digital magazine solution providing "iPad-style magazines accessible and viewable on Facebook" (a sample of EGM's digital version can be found here).
In a tweet announcing the new service, Harris wrote, "It's something that we'll be making available to all publishers very soon. It seamlessly integrates a commerce front-end with viewing and sharing within the Facebook community."
The effort started specifically for EGM but grew into the launch of a new company called Screenpaper Media that leverages Adobe's AIR as well as the "one-stop shop" that other vendors tout. "We built our own solution that lets us embed video and audio and do things advertisers would want and we started to realize we were creating something other publishers would find of interest," says Harris. "We wanted to make sure the platform we created isn't something that required a separate back-end for a Web site or a separate back end for Facebook or the iPad. We wanted to create something that with same source files-not just PDFs or jpgs or whatever page is that you're trying to repurpose-enables you to graft on top of that video and audio and lets you output to all those sources-browser, Facebook, Android, iPad-with a single button push."
Building a "Facebook Newsstand"
Using Screenpaper technology, publishers will be able to display their digital edition on Facebook. "The newsstand is comprised of a reader that lets you see the magazine on Facebook or pull it out of Facebook environment, as well as access and purchase other magazines," says Harris.
Individual publishers can decide their own issue price for the newsstand. Print editions of EGM will feature codes that allow readers access to premium digital content that people reading free version can't get.
While Harris won't reveal specifics, he said publishers using Screenpaper technology will face upfront set-up charges, rather than a revenue share.
Meanwhile, wedding brand TheKnot.com has also launched a proprietary iPad application that it developed in-house. The Knot app includes a wedding community where brides can read articles and chat with other brides; a digital scrapbook that lets brides clip more than 700 articles, pages and images within a page and have it organized by category; share and send capabilities with e-mail Twitter and Facebook as well as more than 20 videos including step-by-step guides.
A video demo of The Knot app is available here.