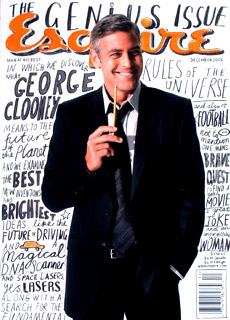 The editor vs. art director battle on FOLIOMag.com started with this Mark Newman
blog post, continued with
a follow-up and has been seeping
into unrelated blog posts ever since.
Here's one of the more diplomatic
comments, posted by a "Mr. McGuinness":
A magazine that has a staff
that sees 'editorial' and 'art' as separate, opposing forces is a poor, poor
magazine indeed. To be a great magazine the art director and editor must have
equal power-but only of course, if they are completely on the same page. If
not, the solution is a 'Creative Director,' who is equally qualified in the
visual and narrative, who has the best interests of the editorial whole in mind
and who can reign the disjointed impulses of the art director/designer and the
editor.
With that said, let's take a little break from all the
tension and focus on an art/edit team that works together—or at least one that appears
to:
Since September 2006, Esquire has been defying the
principles of Coverlines 101 with its type-heavy and largely illegible copy
barraging almost every cover. Design director David Curcurito says the concept,
the "Vietnam Memorial" approach, was editor David Granger's, but
Curcurito is the one who has been executing the design and refining the style
month after month-a clear signal that it's working. According to Esquire, the
magazine is consistently seeing stronger newsstand sales since implementing the
new cover design.