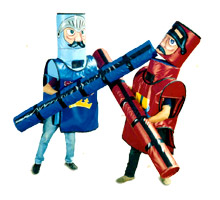 Apparently my last blog post—Editors vs. Art Directors—really struck a nerve, judging by the number of responses (22 by my last count). When the attacks got personal (name calling, questioning the legitimacy of my own magazine, etc.) it made me realize that there are some pretty deep-seeded feelings on this issue.
The overall point of the last blog was that while the editor and art director are partners, the burden of responsibility always falls onto the editor. I've seen a lot more editors than art directors lose their jobs due to a magazine's poor performance in my career. However, I have routinely seen art directors get the majority—if not all—of the praise for how great a magazine has turned around while the efforts of the editorial staff go totally unnoticed.
That said, many of the art directors whom I sent the blog link to agreed with my comments. Maybe it helped that we worked (or still work) together in some capacity, or that they understood, not only where I was coming from, but my healthy attitude toward art directors.
Catherine Neill Juchheim, my art director at Southern Breeze, the REAL magazine I edit, says that it is essentially up to the A.D. to ride herd over the material as well as the editors and sales people. "Whether it is a duel with the editor (no, 1,000 words of copy will NOT fit there!) or a fight with the sales guys over those last minute ads (and money always wins), it is up to the intrepid art director to make it work."
Anthony Picco, who served as my art director for four years at a not-for-profit, completely understood and agreed with my comments because we respected each other's profession as well as each other as people.
"My job is to make the information in the magazine attractive, readable, and enjoyable," Tony says. "I fully understand that there are times that business politics dictate cover choices or lead articles. I have no problem accommodating that. In a healthy working relationship, I am happy to listen to editors' suggestions."
However Tony admits that he prefers less specific comments from his editors ("The cover looks too busy," or "This article has to look spectacular"). He adds that nothing annoys him more than when an editor tries to do HIS job with the "Make that type red" or "I want the type justified, not flush right." Or as he puts it: "Nothing drives an art director crazier than an editor who is a frustrated art director."
Another former cohort, Samuel Fontanez, who worked as a staff artist and is now art director of a magazine I used to oversee, took exception to my seemingly iron-fisted management mantra. "While I agree it's the editor's job to reel in the A.D. into reality when he thinks they've gone too far, [the editor] is not the only person on staff privy to the magazine's audience," he says. "Any art director who doesn't know the audience or industry he or she is doing layouts for is basically a temp who has overstayed his or her welcome. So I think we deserve a little more credit in that area."
John Scott, another former colleague who worked on two monthly publications where I was the managing editor, feels a lot of the issues between editors and their art doyennes are simply due to ego. "I think all editors and art directors have big egos, whether or not they admit it, so naturally there will always be clashes," John wrote in his response to my initial post. "However, it is the ones on both sides that know how to control their ego and not let it get in the way that are the most successful. It is a team effort and there must be mutual respect and a bit of humility."
John adds that if those egos get out of control, the end product will suffer and the work situation will be miserable. "Do you want to be right or do you want to be happy? That's always gotten me through plenty of situations."
Many of the initial blog responders took issue to the "art director is always the wife" statement comparing the editor/A.D. relationship to a marriage. Sam was no exception. To wit, he says that if art directors are the wife, "then I suggest we make Lorena Bobbit our patron saint!" (Anyone who doesn't remember Lorena, Google her. And by the way, Sam … ouch!)
Catherine was also not a fan of the husband and wife mentality and stresses equality among the players. "It's the 21st century now, people; how many wives out there are truly subservient to their husbands?" she ponders. "It's an equal partnership or else it ends in divorce."
John admitted that the "editor has final say," but added that doesn't necessarily mean they are always right. I agree with this sentiment whole-heartedly. In one of my blog comments, I talked about how my art director and I were seemingly up against the editor-in-chief (who had been in that specific industry for over 15 years) and a mousey associate editor regarding a particular cover design. Jonathan, the A.D., created a stunning, emotional visual from an idea I had. Instead, the EIC opted for tired stock art that did nothing for the magazine. [PS: The magazine folded five months later and Jonathan and I are the only ones still working in the magazine industry.]
Unlike John, Tony acquiesced: "The editor is always right, in theory," he says, "but there are 'Editors from Hell' and I have worked for some of them. What does an art director do when an editor has no taste whatsoever—not even bad taste—and yet that editor wants to interfere? What do you do with a micromanager editor who believes you can only do your job properly if your hand is held every step of the way, from concept to completion? Ultimately, I have been fortunate—only about 70% of the editors I worked for were insane."
Whether or not an editor is always right, Catherine agrees that it is the editor—not the art director—who has the first and last word with a magazine. "It is the editor who writes or assigns the stories that sets the tone for the art director to follow," she says. "It is the art director's vision that brings those stories to life across the pages, but it is the editor's determination as to whether the art director's vision is in keeping with the spirit of the editorial written."
Art directors lucky enough to have good editors basically have free reign with the look and feel of a magazine, which comes from mutual respect, according to Catherine. "It's also an open communication atmosphere where the editor and art director freely share ideas and perhaps even cross the lines of responsibility at times. Mark listens to any story ideas that I might have for Southern Breeze and I listen to him when he has an idea for an image to go along with something he has written. We also tell each other pretty candidly when we think something isn't going to work, and why. That way, both parties are invested in all aspects of the magazine, and both are driven to produce the best issue they can, time and time again. That is the only way to a successful magazine."
However, an atmosphere where the editor and art director are constantly at odds will only result in a second-rate magazine and a very tense environment. "There is just no way a publication can succeed if the two 'parents' are constantly fighting," Catherine says. "That will just produce a take-side atmosphere and pretty soon the whole office is in an us-versus-them uproar and nothing good will come from that."
And the final word has to go to Catherine: "To the editor who may consider his or her art director a freak or diva: it takes one to know one. And I think Mark would agree!!"
Boy do I!