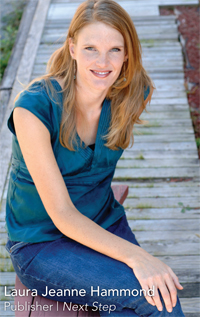 Editors are about content. But if you move up the ladder, you need an understanding of the business side, too. Not yet 30, Laura Jeanne Hammond started as an intern with high school magazine Next Step in 1995, shortly after the magazine launched (and when she herself was a sophomore in high school). She took over as editor-in-chief about a month after graduating college and added on the title of publisher last year. Since she started with Next Step, the magazine has grown to reach 800,000 students and the number of high schools that get the magazine has grown to more than 20,500. In 2007, Next Step won an award for Periodical of the Year in the young adult category from the Association of Educational Publishers, beating out nominees like The Wall Street Journal's Classroom Edition, Scholastic Art and The New York Times Upfront.
At the recent FOLIO: Show, Hammond shared her tips for making the transition from editor to publisher and managing a broader staff than just the edit team.
Think like a sales person: "As an editor, you have intimacy with the product. As a publisher, you have to articulate it. Make your products easier to understand. We designed PDFs with examples of our custom work so clients could quickly get a sense of what we can do. In 2007, we sold six custom programs. In just three months this year, we scheduled six. What can you offer that is more saleable? (Even if it means you'll be out of your comfort zone.)"
Get it out of your head and on paper: Utilize profit reports, inventory, detailed spreadsheets.
Make others responsible too: Share budget responsibilities and hold daily huddles with direct reports. "I gave our editorial assistant the budget for freelance and I gave our print production coordinator the budget for photos. It's amazing how many photos she could repurpose and stay under budget when it became her responsibility."
Make Meetings Count: Define each participant a role. "For example, print production reports on the number of covers, while I report on how close we are to budget."

Learn New Skill Sets: Specifically, learn Excel. "It makes math (and life) so much easier. When I became publisher, I also took an accounting class. You need to know the metrics and how to report on those metrics."  

Develop key relationships: That ranges from key accounts to the Post Office rep to the printer. "As editor, if I had a bad day, maybe I didn't have to talk to anybody. As publisher, I have to do it. You need to meet with the printer as much as possible to develop those relationships."
Learn everyone else's job, then give it back to them: "This helps you know what they're up against. You don't have to be fluent, just able. And don't forget the giving-it-back-to-them part."
Comparing Editor and Publisher Responsibilities
As both editor-in-chief and publisher of Next Step, Laura Jean Hammond's duties vary greatly. Here is a breakdown of her responsibilities.