Editorial Shakeups at Elle and Cosmo Sites

Hearst adds new leadership to the digital brands.

Early Tuesday, two top-level editors in Hearst Magazine's Digital Media (HMDM) division were given pink slips, effective immediately.
Mashable first broke the news of the layoffs saying both Elle.com editor Amina Akhtar and Abby Gardner, digital director at Cosmopolitan magazine, were let go from their respective posts.
Akhtar tweeted her layoff confirmation writing, "What a Tuesday! Officially looking for work if you know of anything. #layoffs" and changing her biography on the site to include "Formerly of Elle.com. Free agent. Hire me, really."
Following those comments, it was confirmed that Gardner was also out.
At least for today the layoffs seem like isolated incidents as opposed to a larger, across the board editorial shuffle. However, HMDM's subsequent hiring announcement later in the afternoon clearly indicated the company was looking to make big changes.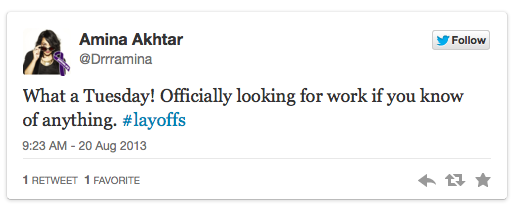 HMDM president Troy Young, who himself only joined the company from Say Media in May, announced the just-vacant posts were already occupied, hiring Amy Odell as editor of Cosmopolitan.com and Leah Chernikoff as editor of Elle.com, effective Sept. 16.
"Cosmo and Elle are starting important conversations, breaking news and offering commentary on the big stories that matter to our users: young women who care about the worlds of fashion, entertainment, politics, women's issues and world news," Young says in the release.
Though Young did not explicitly mention a new direction for the titles, the hiring of both Odell, formerly of BuzzFeed and the founding editor of New York magazine's The Cut, and Chernikoff, editorial director of Fashionista.com since June 2010, does allude to the notion that he is looking to take a more aggressive online presence with both sites.
"Amy's well-respected point of view will drive Cosmo as the site evolves its content," Young contends. "Leah's deep knowledge of the industry and her news sensibility will grow Elle.com's influences as a leading voice of fashion."
In addition to Odell and Chernikoff, Young also appointed Annie Fox to director of programming. She will work with content and product teams to evolve HMDM's community connections and media platforms, according to the release.
Fox comes to Hearst from Spin Media, formerly BuzzMedia, where she launched BUZZMAKER, a network of online influencers responsible for growing audience, engagement and revenue.
Meet the Author
---