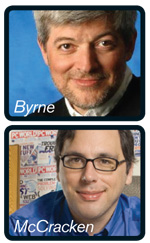 From John Byrne to Harry McCracken, editors strike out on their own and see new types of editorial ventures paying off.
These are precarious times to be an editor. However, many editors are striking out on their own (some by choice, others by circumstance) and redefining what it means to be an entrepreneurial editor. In 2008, Harry McCracken resigned as editor of PC World only to resign again to launch his own venture: a technology news site called Technologizer, which quickly ramped up to more than two million unique page views from more than 400,000 visitors.
"My strategy for the site has been to grow traffic while keeping costs extremely low and thereby make the site self-sustaining quickly without having to seek outside funding," McCracken told FOLIO:. "We're profitable based on advertising revenue, and I've never had reason to regret giving up the generous salary I got as the editor-in-chief of the largest computer magazine in existence."
In 2010, McCracken announced he would start writing a weekly column for Time.com and contributing to the magazine's Techland site. In February 2011, Time.com announced a partnership with Technologizer, in which it will sell all display advertising on the site.
John Byrne former editor-in-chief of BusinessWeek, left his post just before the magazine's sale to Bloomberg closed to start his own digital company, C-Change Media (the "C" stands for content, curation and community).
Today, C-Change Media is pursuing a number of syndication deals, including a ranking of top MBA programs with Fortune, as well as deals with startup education portal Noodle Education and BeattheGMAT, an online community for those preparing to take the GMAT test.
Of the approach, Byrne says, "I have three fundamental beliefs that inform my thinking: 1) Print advertising will never come back. 2) Online advertising will never offset those declines nor save print. 3) Users will not pay for content, unless they're convinced it has immediate and tangible value. Very little journalism meets that standard today."
VITAL STATS: Internal tracking figures show the www.csmonitor.com site generating 28 million page views in March 2011, with 9 million unique users, putting them in the Top 20 News Media sites for their best month to date.