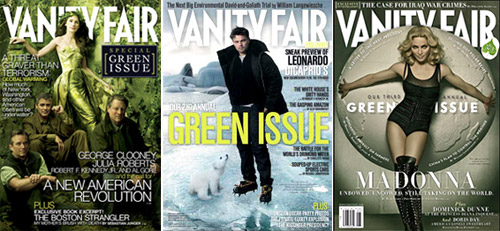 It's been three years since Vanity Fair—one of the first mass market consumer magazines to tackle the issue of global warming—published their first green issue. (Vanity Fair's Conde Nast sibling Wired published one in May 2006 as well). And they've published one each year since.
Countless magazines big and small have followed.
But Vanity Fair has also been on the leading edge of a troubling trend in the magazine industry. That is, preaching green without practicing it. The magazine's green issue, for starters, is not printed on recycled paper. Nor are the magazine's 11 other issues. "Forgive me for being less than thrilled about a 'green' magazine made from clear-cut forests," Todd Paglia, executive director of ForestEthics, a non-profit organization based in San Francisco, wrote in a blog post entitled "No More Green Issues" earlier this year.
Conde Nast declined interview requests for this report, citing a company privacy policy.
It's not just Vanity Fair that has drawn the ire of environmentalists. In April, the New York Times magazine published its first-ever "green issue"—a "low-carbon catalog" of ideas for environmentally-conscious living boasting a slew of new advertisers. But, in what's becoming increasingly irritating to environmental bloggers and "green publishing" experts that monitor them—it was not printed on recycled paper.
"That would be nice," Gerald Marzorati, the magazine's editor, told FOLIO: at the time. "Our printing is a very particular method, and these machines use a very old, not terribly good paper stock. It just wasn't feasible." Marzorati hoped the issue's message—"micro-level" things individuals can do to create a better environment—would outweigh its own carbon footprint.
Despite the onslaught of green issues—with recycled or virgin paper—little more than 100 magazines print their issues on recycled paper in the United States, according to the Co-Op America's Magazine Paper Project. [See FOLIO:'s report on green paper]
But is bringing awareness to issues impacting the environment through editorial content enough to consider a magazine green?
No, says Paglia. "When so much of Vanity Fair's Green Issue bears the implicit message of 'Wake up! Do something! Embrace the possibilities!' I can't help but wonder why Vanity Fair hasn't been bold enough to take on its own contributions to deforestation and climate change."
Paglia adds: "If they are furthering the idea that talk without action is sufficient, they may have outlasted their usefulness."
He points out that other magazines like Shape, Mother Jones, Ode and Plenty "have seen fit to make their values and the paper they use consistent."
Looking Within
Both Backpacker and Discover took the idea of green introspection a step further, using their "green" issues as an opportunity to take stock of their own companies [see the results of Discover's carbon audit, page 35]. Backpacker did a full carbon footprint audit, during which the company measured consumption of everything from paper and ink to paper clips and pencils. Jonathan Dorn, editor-in-chief of Backpacker, told attendees of the Independent Magazine Advisory Group conference earlier this year that as a result, Backpacker was able to reduce its carbon usage 12 percent and now runs a "more efficient and profitable business."
Staff travel, he said, was a surprisingly large contributor to the magazine's carbon footprint—some 9 percent. "Airplane travel is devastating," Dorn said. But the biggest opportunity to slash the magazine's CO2 usage was in paper, which took up 48 percent of Backpacker's footprint in 2007. Backpacker switched to a high-bulk, lower basis weight paper stock, which Dorn says also had a "pass-along value in printing and distribution."

Green Publishing Standards:
Devote 10 percent of your editorial in non-green issues to, well, green
issues. Also, limit the amount of travel your editorial staff does to
essential trips, and offset the carbon generated by these trips
wherever possible.
What You Can Do to Be Green: A top-to-bottom energy audit, like Backpacker's, is perfect fodder for editorial content.

Discover's Carbon Footprint
In April, Discover mapped the lifecycle of each issue, to calculate its carbon footprint—962 tons of CO2 for about 1 million monthly copies. The magazine vowed to purchase a carbon offset for $4,796 from Carbonfund.org.
Here's how it broke down: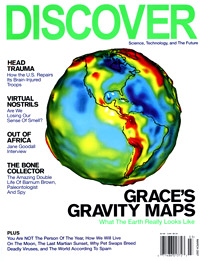 • Discover's staff puts out 5.4 tons of carbon dioxide on travel each month. Office energy use adds another 8.7 tons.
• Shipping the 348,000 pounds of paper needed every month emits 13.7 tons of CO2.
• Harvesting and transporting the trees to the mill adds 22 tons. The 8 tons of 50-percent-recycled magazine inserts adds 20 tons.
• At the printing plant, producing one month's edition of the magazine adds 52 tons of CO2. Ink adds 9.6 tons.
• The 540-mile journey from the printing plant to a distribution facility outside Chicago adds 4.7 tons of CO2.
• From Chicago to other distribution centers and on to postal facilities around the country adds 10.6 tons of CO2.
• The trip to local post offices and mailboxes accounts for another 16 tons of CO2.
• For newsstand copies, the trucking footprint to each state and Canada adds an additional 5.8 tons of CO2.
• Traffic from wholesalers to retailers adds 2.3 tons of CO2.
• Add 176 tons of CO2 for recycling and landfilling.
SOURCE: Discover
B-to-B Publishers Look to Cash in with Green Spin-Offs
According
to a recent report from McGraw-Hill Construction, the green home
building market is expected to be worth as much as $20 billion this
year, and could double over the next five years, possibly reaching as
much as $70 billion in market share. Magazine publishers in the b-to-b
space are also cashing in on this expanding market. McGraw-Hill's
award-winning, 42,000-circulation GreenSource magazine, for instance,
has seen consistent advertising sales growth since its launch in 2006.
Its March issue was its largest to-date, McGraw-Hill says, with more
than 80 ad pages. Traffic to its Web site, greensourcemag.com, is up
nearly 200 percent since July 2007. And this July, McGraw-Hill
increased the magazine's frequency from quarterly to bi-monthly.
"We're
seeing a tidal wave of interest [in green building] from our readers
and customers," says Hanley Wood group publisher Rick Strachan. In
January, the b-to-b housing and construction publisher launched Green
Products and Technology, then relaunched the 35,000-circ. title as
EcoHome, and increased the editorial budget by 25 percent per issue,
Strachan says.
"When the first issue came out earlier this year,"
he says. "We knew it was good but knew also that this is too important
a segment not to put more money into this magazine." While Hanley Wood
plans to keep EcoHome as a quarterly through the rest of 2008, it plans
to up its frequency to bi-monthly in 2009. Strachan adds: "We're
building an eco-franchise."
SEE ALSO:
MAIN PAGE
PRODUCTION | The Paper Problem
OPERATIONS | The Importance of Stewardship in Sustainability
DISTRIBUTION | Efficiency–And Sustainability–At the Newsstand
EVENTS | How Eco-Friendly Can a Live Event Be?
MARKETING | A Paperless Future?
DIGITAL | Using Digital Editions to Go Green