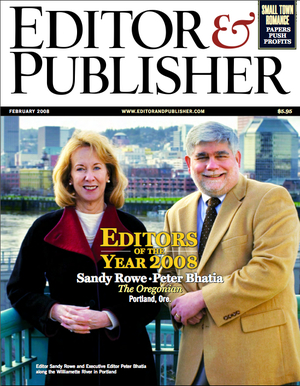 SEE ALSO: Editor & Publisher 'More Vital Than Ever'
Editor & Publisher has received a lifeline—from a boating magazine publisher.
Two weeks after being shuttered by Nielsen Business Media, the nearly 130-year-old newspaper industry magazine was acquired Thursday by Irvine, California-based Duncan McIntosh Co. Inc. The February issue will be its first under new ownership.
Financial terms of the deal were not disclosed.
"Such a critical information source for a newspaper industry so desperately in need of help should not go away," McIntosh said in the announcement, which was posted to the E&P Web site. "I've been a reader of E&P over the course of 30 years and know its incredible value to readers and advertisers."
How exactly E&P will mesh with Duncan McIntosh Co. Inc.'s stable of boating publications, including Boating World, Sea Magazine and The Log newspaper, was not immediately clear. McIntosh did not immediately return an e-mail seeking comment.
E&P's former editor-at-large, Mark Fitzgerald, will serve as editor under the new ownership. Former editor Greg Mitchell is no longer with the magazine. Charles McKeown will continue as publisher.
Nielsen closed E&P, along with sister publications Kirkus Reviews, last month after it announced the sale of eight media/entertainment brands—including Billboard and The Hollywood Reporter—to e5 Global Media, a new company formed by private equity firm Pluribus Capital Management and financial services firm Guggenheim Partners.
Last week, Kirkus Reviews managing editor Eric Liebetrau told FOLIO: that a buyer had stepped forward for that magazine and that more details could be available before the end of the month.