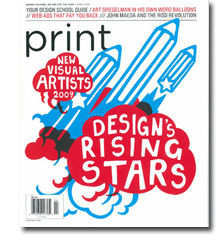 SEE ALSO: Multichannel-Bent Publishers Give Longtime Print Staffers the Cold Shoulder
Earlier this week, Emily Gordon was let go as editor-in-chief of F+W Media's 70-year-old Print magazine. It was a position she held since fall 2008, after replacing Joyce Rutter Kaye.
When contacted by FOLIO:, Gordon—who started at Print as a senior editor in early 2006—said her ouster came after helping relaunch the magazine's Web site last year and managing the award-winning magazine's editorial content with a staff of only five.
"I'm proud of our awards, our beautiful and thought-provoking issues, and the stellar staff and family of contributors and friends who never stopped working their tails off for Print and for print as a medium," said Gordon. "The most farsighted people in media know that audiences—particularly design-minded and literary ones—want to embrace both print and digital media; the question is how to profit from both, or allow the two to be complementary forces that will probably not equal each other in revenue."
In terms of a replacement, F+W says it is seeking a content director who will be responsible for Print's content development strategy across media platforms, including digital, social media, e-commerce, books, events as well as the print magazine.
"A lot of publishers are facing the challenge of how to inspire legacy editors to think and act on building value across platforms beyond only print," said F+W Media president David Blansfield. "We're excited about the opportunity to work with a new leader of the brand—someone who embraces the idea of multiplatform first and wants to inform and grow our design community."
In addition, the incoming content director will collaborate with F+W's audience development team to create and leverage social media tools to grow its audience of graphic designers, and work with the company's book team to develop and sell a Print-branded book imprint.
Blansfield said Gordon was the magazine's only staffing change and that there are no frequency and/or circulation changes immediately planned. F+W's design community, which also includes HOW magazine, is one of the company's best performing properties, Blansfield said. Print generates roughly $2 million annually in revenue (with a "significant" portion of those revenues coming from subscriptions) while HOW pulls in more than $7 million in revenue, across platforms,  per year.
Last month, F+W closed I.D., another magazine in its design group. Blansfield said the title was making roughly $1 million annually based almost solely on advertising, which had fallen "precipitously," down 44 percent since 2007.