Editor-in-Chief Chris Anderson Leaves Wired

Anderson will pursue entrepreneurial start up.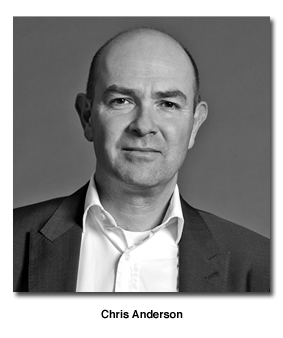 After an 11-year stint as Wired's top editor, Chris Anderson is stepping down. According to a memo released late Friday by Condé Nast CEO Charles Townsend, Anderson will leave the magazine, pursuing his "entrepreneurial dream." The announcement comes about 10 days after the publication announced it was increasing its rate base for the 11th consecutive year to 825,000–a bump of 3 percent or 25,000. Below is the full note from Townsend on Anderson's departure:
Today Chris Anderson, editor in chief of Wired, announced that he will be leaving Condé Nast at the end of the year to become CEO of 3D Robotics, a company he cofounded several years ago.
"This is an opportunity for me to pursue an entrepreneurial dream," Chris said. "I'm confident that Wired's mission to influence and chronicle the digital revolution is stronger than ever and will continue to expand and evolve."
Chris joined Wired as editor in chief in 2001. During his tenure, the magazine received eight National Magazine Awards, including the prestigious top prize for General Excellence in 2005, 2007 and 2009. In 2010, Adweek honored  Wired as its Magazine of the Decade.  
As with every brand that challenges the current times and predicts the future, Wired will now embark on the next phase of its quest to determine "what will matter."  Please join me in thanking Chris for his extraordinary contributions to the Wired franchise. We wish him the best of luck in his new venture and look forward to naming his successor shortly.
T.J. Raphael is a FOLIO: Magazine Associate Editor. Follow her on Twitter.
Meet the Author
---