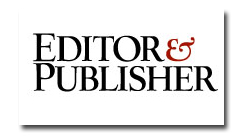 Irvine, California-based Duncan McIntosh Co. has a new plan for the editorial staff at Editor & Publisher, the former Nielsen title the company acquired earlier this year.  As a result, longtime editor Mark Fitzgerald, managing editor Shawn Moynihan and senior editor Jim Rosenberg have been fired, according to a statement e-mailed to FOLIO: by Fitzgerald.
In the statement, Fitzgerald says he was told the company wants to take Editor & Publisher in an unspecified "other direction editorially." Citing a company memo, Fitzgerald says the magazine will be "utilizing more individuals for the print edition who are experts in their individual fields as opposed to reporters who track down experts and put the expert's story into the writer's words."
No word yet about what the changes mean for the future of Editor & Publisher or its Web site. Duncan McIntosh did not immediately return a request seeking comment.
UPDATE: "Moving toward expert-generated copy is something I've wanted to do for a long time," McIntosh tells FOLIO:. "We need to utilize as many experts in the field as possible. I'd rather clean up their copy than rely on reporters who might not know to ask the right questions."
McIntosh says that while content creation will be farmed out to experts, the editorial management of the magazine will be handled in-house by his team. "We knew when we took over the magazine that it had to change, to adapt to where the newspaper industry is headed," he says. "We just weren't getting the changes we were looking for with the staff that we had in place.
"All three of them are great guys, and accomplished journalists," he adds. "We wish them the best."
The magazine's publisher, Charles McKeown, as well as its associate advertising director remain with the magazine.
Editor & Publisher was shut down in late 2009 by former owner Nielsen Business Media, roughly two weeks before being acquired by McIntosh, which publishes several marine-related publications, including Boating World, Sea Magazine and The Log newspaper.
Today, McIntosh says the magazine's revenues are still about where they were a year ago. "It's close to self-sustaining," McIntosh says. "And the mission of the magazine is just as strong as ever."