Edgell's Open Approach to Digital Delivery

B-to-b publisher broadens its audience through digital magazines.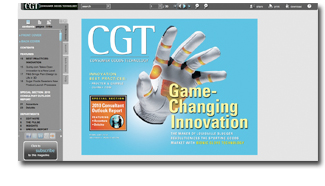 Edgell Communication's Consumer Goods Technology launched an all-digital issue in July 2008 and now publishes four all-digital issues each year (February, April, July/August, and November). Edgell Communications will be rolling out replica digital versions for all its other controlled-circulation brands in the next few months.
The digital-only issues of Consumer Goods Technology, however, are not replicas. "We have an interactive digital platform for those issues," says Rob Keenan, VP of online media, "but the biggest difference is that we produce a horizontal publication for our digital issues. We've literally flipped the layout on its side, redesigned the pages, and optimized them for the digital format." As a result, the reader doesn't have to zoom to read the articles.
Every Consumer Goods Technology subscriber for whom the publisher has an e-mail address receives the digital issues, but Edgell maintains an open approach to delivering the digital issues. "We see a value to delivering information to people in our database who are involved in the industry but are not receiving the print publication—such as members of our audience who receive editorial blasts or e-mail newsletters," Keenan explains. "Digital issues provide an opportunity for us to reach them, so we leverage that relationship."
Advertisers pay separately for the digital issues, although it can be part of a comprehensive program. "We offer digital enhancements that don't apply to print," explains Keenan. "We do belly bands and animations, but the most popular are blow-in ads that sit on top of a page or on top of the ad. We're also serving flash ads by coupling them very closely with our ad management system; we can then provide the advertiser with feedback data on impressions, clicks, click-through rates, and so forth."
A big challenge for publishers leveraging digital media is that advertisers are still providing standard flat ads, according to Keenan. "We can help them with that," he says. "[We have] a sales kit, basically a dummy issue with all the different digital options that advertisers can add to their program." Most of those enhancements involve an upcharge.
Articles in the digital issues are shorter and more graphical. Primarily, though, the content is more dynamic; for example, blow-in polls, pop-up videos of executive interviews tied to articles, and direct links to social media pages/accounts for the names in an annual supplement listing of small- to medium-size businesses in the consumer goods sector.
"If we can figure out a way to enhance our content with a digital media solution, we do it," says Keenan.
Meet the Author
---