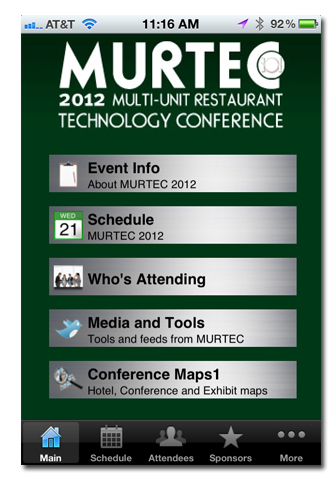 Edgell Communications, a b-to-b media company with nine print publications and over sixteen face-to-face events, is expanding its business with the introduction of Edgell Mobile Services (EMS).
The launch will enable the company to generate revenue from individuals looking to integrate or enhance the mobile components of their business, with a specific first push toward courting publishers with event portfolios.
"If publishers are anything like us, the event business generates a lot of revenue for the franchise and having an app that supports that revenue is increasingly more important," says Albert Guffanti, group publisher of Edgell Communications. "There are a lot of publishers that were like us, that didn't have a mobile strategy at all."
In late 2011, Edgell started to develop its own applications and was able to do so in a matter of weeks. Form there, the company realized it could transform this new initiative into an entire business to serve various sectors of the media industry, and its own end-users.
"As a publisher, we really needed to walk the walk and be a company that is leveraging the rise of mobility and apps," says Guffanti. "The latest number shows there are over 100 million smartphone users, which is increasing by 20 percent each year. Look outside, read a paper or watch TV and you know that smartphones are everywhere and a lot of businesses haven't leveraged that technology."
Edgell will be trying to reach its own base of advertisers, many of whom do not have applications for their own events and services. Another opportunity, says Guffanti, consists of publishing companies and event producers.
"We're going after three markets, the first being Edgell's own audience," he says. "We play in the retail, hospitality and consumer goods spaces. In the retail, restaurant and hotel markets—a lot don't have apps for their own marketing, apps that work with their loyalty programs or communicate and make life easier for consumers. Big box retailers do, but smaller restaurants and retail outlets don't."
All of Edgell's 16 annual events now have mobile apps that run on an app platform provided by XCO Software.  
"With XCO Software, you essentially are just buying the technology platform but with Edgell Mobile Services, you get the technology platform, the mobile strategy, creative services, training and support," says Guffanti. "We're providing publishers with a tool they can use as easily as email—it's more than the software, but the tools for launching a successful app."
Individuals that work with EMS pay a one-time cost for the XCO Software platform, and a series of incremental monthly costs for services and support. Once someone purchases the platform technology, it is theirs to use for as long as they like.
"Other app development companies charge you every year for the same app essentially, which doesn't really make sense," he says. "If you have an event and you want to use an app to communicate with your attendees, exhibitors and sponsors year in and year out it doesn't really make sense to be continually charged."
In terms of paying for the app, end-users can incorporate sponsored banner advertisements that can help pay for the app. The pricing, which Guffanti wouldn't fully disclose, is under six figures. There is a flat fee for the XCO Software platform, and Edgell offers an al a carte menu of sorts for additional services that include creative development, ongoing technical support, training involved with updating content on the app, analytics and data support.
Additionally, says Guffanti, Edgell's new business division will help individuals develop and execute a mobile strategy. Services also include a tutorial on how to use the app, how to maximize business intelligence in order to leverage data to make business decisions.
"We have industry experience and we've done this for ourselves, and now that we have an app it's hard to imagine what it was like without it," says Guffanti. "The event business is huge for us and represents 30 percent of the revenue as a company—something as important as that should be invested in. This can enhance the experience for the attendees, sponsors and publishers."