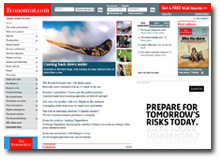 Starting later this month, The Economist will "experiment" with an increase to its existing pay wall online by upping the threshold for free access to online content from one year to 90 days and by making the digital edition of the weekly print magazine available only to online subscribers.
Previously, non-subscribers could access online editorial content within 12 months of it being posted. According to Economist.com publisher Ben Edwards, the magazine is now charging for access to the digital edition because it views it as a "premium reading experience" said it plans to "develop the online edition of our magazine for our most loyal and engaged readers: subscribers."
"Our intention is to continue to develop intelligent discussion as a free, advertising-supported experience, but to charge for the weekly magazine online," Edwards said.
The new pay structure will take effect October 13, the magazine said. An online subscription will cost $95.