---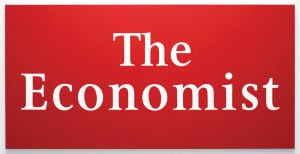 Amid calls for a boycott and public pressure to follow The New Yorker in canceling a speaking gig the magazine booked for Steve Bannon, The Economist is standing by its decision to include the controversial former White House strategist in its upcoming Open Future Festival, citing the need to "invite views from all sides—and challenge those views."
"The future of open societies will not be secured by like-minded people speaking in an echo chamber, but by subjecting ideas and individuals from all sides to rigorous questioning and debate," wrote The Economist's editor-in-chief, Zanny Minton Beddoes, in a Tuesday afternoon letter addressing the backlash.
Although the speaker lineup for the festival—meant to "host discussions on the most urgent issues of our time …. with speakers representing many sides of the debate"—was first revealed in early August, Bannon's inclusion received minimal scrutiny until Labor Day Weekend, when a similar decision by The New Yorker to include Bannon in its own festival was quickly reversed after a flood of outrage, including from some of those who would be sharing the stage with the former Breitbart chairman, who has repeatedly called the media "the opposition party" while facing criticism for associating with or promoting figures known for anti-semitism, Islamophobia, and white nationalism.
"The Economist also gave a stage to Steve Bannon at the Open Fest in New York where I'll be speaking," wrote immigration advocate Julissa Arce in a tweet Monday evening. "But do I allow that to silence me, or do I decide to speak my truth and share a stage with a xenophobic bigot?"
Folio: will be on hand to report on the festival at 7 World Trade Center, where the magazine has now placed considerable pressure on its editor-in-chief to hold Bannon's feet to the fire.
"This is equivalent to putting on stage a man who recommends everyone read Mein Kampf and letting him promote his new company," added Glitch CEO Anil Dash, another speaker booked for Open Future in New York.
The festival is the culmination of a broader, multi-platform Open Future initiative rolled out by The Economist earlier this year, commemorating the magazine's 175th anniversary with a series of online, in-print and in-person debates meant to "remake the case for liberal values and policies in the 21st century," while inviting input from both supporters and critics of said values.
Other speakers at the New York edition of the Sept. 15 festival—alongside simultaneous programs in London and Hong Kong—include former UK foreign secretary David Miliband, ACLU president Susan Herman, political activist Linda Sarsour, and actress Amber Heard.
Recent months have seen the rise of an increasingly intense debate about the tightrope act by major news outlets as they attempt to provide a forum for "all sides" without irresponsibly normalizing viewpoints widely seen to be morally objectionable, and it's worth noting that calls for a boycott—however magnified through the lens of social media—are likely to cause at least some concern for the London-based magazine in North America, where it has been aggressively marketing its print and digital subscriptions.
I was slated to speak at an event with @TheEconomist in New York following my return to USA but I cannot in good conscience speak at a conference that is giving space and platform to Steve Bannon. #wirsindmehr pic.twitter.com/Q410vkx4FY

— Blair Imani (@BlairImani) September 3, 2018
I specifically refused to share a stage with him. https://t.co/bAECAeiEAB

— Michael Clemens (@m_clem) September 4, 2018